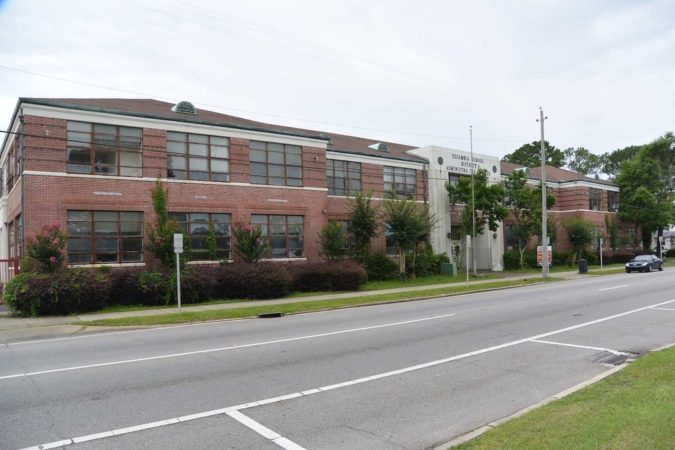 The Florida Trust for Historic Preservation included the Pensacola Vocational School Building (1942) on its 2020 "11 to Save," a list of the most threatened historic properties in the state.
The John Sunday Society, a Pensacola-based preservation group, nominated the building for the list after placing it on its own "Seven to Save" list of at-risk local historic sites in 2019. The structure is the first one in Pensacola property to make the list.
Annually, the Florida Trust for Historic Preservation announces its 11 to Save program as part of its conference. The program is designed to increase the public's awareness of the urgent need to save Florida's historic resources, and to empower local preservationists and preservation groups in their efforts to preserve Florida's rich history.
"Each year, we receive more and more nominations from people around the state for the 11 to Save program," said Florida Trust for Historic Preservation Board President Friederike Mittner. "This year's list does a good job serving our goal to have the list reflect historic places that resonate with the people of Florida, to learn from and share the stories of these special places – and work with communities to make sure they are still here in years to come."
Constructed the year after Pearl Harbor was bombed, the Pensacola Vocational School trained both military students and civilians. The building later hosted adult high school classes before becoming the administrative headquarters of the Escambia County School District. In 2000, the school board renamed the building in honor of Dr. Vernon McDaniel, Escambia County's first black school board member.The building has been vacant since 2010.
"The Florida Trust's inclusion of this building on their annual list underscores just how important it is that this building be saved," said Teniadé Broughton, president of the John Sunday Society.
"This building is central to the story of Pensacola's role in the second World War and to the stories of the thousands of men and women who were educated there," she continued. "And sadly, with the recent loss of most of the historic USO Building next door, it is one of the few remaining buildings from that era that we have left."
The building is now owned by a development group that has announced tentative plans to incorporate the historic building into its mixed-use development.
---
The John Sunday Society, a 501(c)(3) charitable organization, was originally established in 2016 in a bid to save the historic 1901 John Sunday House in downtown Pensacola, but relaunched in 2019 with a broader mission to raise awareness of Pensacola's diverse history and advocate for the preservation of Pensacola's historic places and spaces.