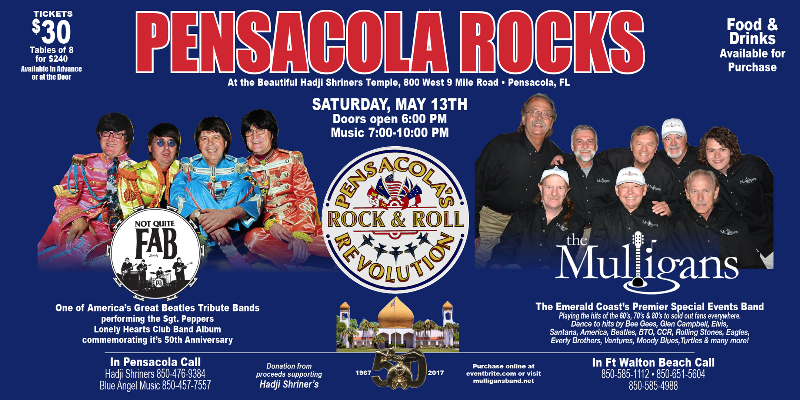 Featuring Beatles Tribute Band Not Quite Fab and the Mulligans
Beatles Tribute Band Not Quite Fab and the Mulligans have announced Pensacola's Rock & Roll Revolution, two-band concert will be held on Saturday, May 13, at the Hadji Shrine Temple, 800 W. 9 Mile Road. Doors will open at 6 p.m. with music and dancing starting at 7 p.m.
Beatles Tribute Band, Not Quite Fab, www.notquitefab.com, will be playing the entire Sgt. Pepper's Album in commemoration of the 50th Anniversary of the albums original release. After their performance, fans can expect to have a great time listening and dancing to the Mulligans )www.mulligansband.net) playing their favorite hits from the 60's, 70's and 80's by bands such as Atlanta Rhythm Section, Turtles, Rolling Stones, the Box Tops, Bob Seger, Santana, Bachman Turner Overdrive and many more.
Mulligans founder Edwin Watts commented, "We are very excited to partner with Not Quite Fab for this great event. They are one of the country's best Beatles tribute bands and the audience is in for a real treat. This will be a really fun night with a lot of great music."
That sentiment was echoed by Not Quite Fab member Dickie Williams (aka Sir Paul McCartney) when he said "Not Quite Fab could not be more excited about playing this event with the Mulligans. They are a fantastic band and a great fit with our Beatles show."
Pensacola's Rock & Roll Revolution will support the great work the local Shriner organization does to help children who have orthopaedic conditions, burns, spinal cord injuries, cleft lip and palate, and more.
Cost for an individual ticket is only $30. Tickets are currently available for purchase through the local Shriner Organization (850-476-9384), Blues Angel Music in Pensacola (850-457-7557), and online at www.eventbrite.com or through www.mulligansband.net. In Ft Walton Beach call (850) 585-4988. A table for 8 can be purchased for $240 providing reserved seating.