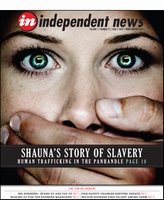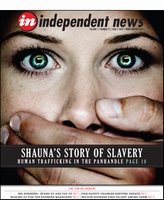 In 2007, the IN broke the story on human trafficking in Northwest Florida ("Shauna's Story of Slavery"). Our area sits on Interstate 10 which is a major artery for drugs, guns and human trafficking. Youth Radio with NPR's All Things Considered has produced a two-part series,"Trafficked," on the sex trade-another story we covered when the law enforcement busted an escort/prostitution ring that used the PNJ classifieds to recruit clients ("Inside the Sex Trade").
For more than six months, Youth Radio investigated child sex trafficking in Oakland (Newell was 16 when she was abducted). It's a system of exploitation that's ensnaring girls across America. The FBI has said more than 300,000 children and youth per year are forced into prostitution.
As part of the investigation, Youth Radio obtained a hand-written business plan from a pimp during our investigation for Trafficked. On the list: "Get in touch with Big Al out of Florida." Not sure "Big Al" lives in Florida, but this is an Oakland pimp wanting to contact him, which gives you an idea how massive this industry is.
See the entire report: Here.