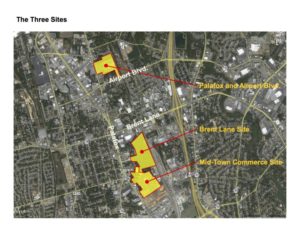 Last week, the Escambia Board of County Commissioners was presented a report on the three possible sites on which to build a new county jail and booking facility – see 9166_Esc Jail-SiteEvaluation_101515.
The three sites are:
1) near the intersection of Airport Blvd. and North Palafox – site of a closed concrete plant.
2) Brent Lane site – a wooded area behind the shopping center on Brent and Palafox.
3) Mid-Town Commerce site – near Superfund site just below where Palafox and Pace Blvd unite.
Escambia County staff will hold a special town hall meeting on Tuesday, Oct. 27, at 5:30 p.m. in the Board Chambers of the Ernie Lee Magaha Government Building (221 Palafox Place). These three proposed jail sites will be presented to the public and answer any questions. One or more Commissioners may be in attendance.
The Board of County Commissioners is expected to vote on the jail site on Thursday, Nov. 12 at 5 p.m., during a specially-called Board meeting.
On Tuesday, I spoke with Commissioner Grover Robinson on "Pensacola Speaks" about the options: