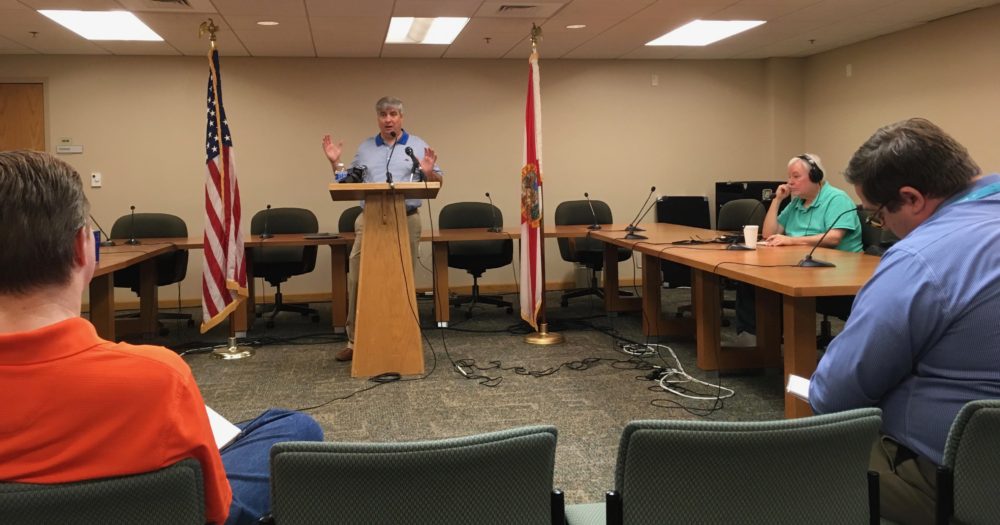 By Jeremy Morrison
Pensacola Mayor Grover Robinson traversed a number of items Monday during his weekly press conference. In addition to filling the media in on what he's been up to since his last presser two weeks ago — attending his kids' graduations and finalizing the ST Engineering deal with Triumph Gulf Coast — the mayor also offered a number of updates on currently unfolding city business like efforts afoot to forge a strategic plan and progress being made on hiring for key administration positions.
Having a Vision
Robinson previewed what he described as this week's "real big meeting" with the Pensacola City Council and John Streitmatter, who serves as director for the Leadership Research Institute, a nationwide consulting firm focusing on leadership development and organizational effectiveness. The purpose of this workshop, slated for Thursday at 8:30 a.m. at Pensacola City Hall, is for the city to come up with a strategic plan and mission statement, as well as prioritize the various recommendations that came out of the mayor' recent transition team report.
"A strategic plan begins to say, 'these are the things we want to be leaders in,'" Robinson said.
The mayor said Monday that he expects to end this week's workshop with a more clearly defined course mapped out for the city.
"It will go as long as it needs to," Robinson said. "We will work through lunch if we have to."
Prior to the workshop, Streitmatter has conducted interviews with city council members, as well as some members of administration in an effort to get a better understanding of how the various players view the city's mission. Apparently, the mayor said, the consultant has heard a lot of commonalities expressed during these discussions.
"So, he thought, getting values and a mission statement, we should be able to do that fairly early in the morning, since a lot of us were saying some of the same things," Robinson said.
The other function of the workshop, prioritizing city efforts, may require a bit more discussion. Robinson described the workshop as a "team exercise" between the mayor's office and council, and expressed the need to have the legislative body on board because any city priority will ultimately require funding.
"There's going to be funding required, so we need council to say, 'these are the priorities,'" the mayor said.
New Team Members
Mayor Robinson is in the process of filling a number of key positions within his administration. On Monday, he said the city expects to wrap up its search for someone to head up the sanitation department later this week, and then next week focus on finding a new assistant city administrator.
City Administrator Chris Holley said that he is currently looking at eight prospective candidates for the assistant position, and that list will soon be whittled down to three prospects.
"In the next week or so," Holley said, explaining that the mayor will then take a look at the three finalists.
Another key position the city has been trying to fill, someone to oversee Complete Streets efforts to make the city more pedestrian friendly, remains open, with the search still ongoing.
"It's open, and we're still looking for people," Robinson said. "It's open and we're looking for good people to apply."
One position that is getting filled is that of assistant finance director. Robinson confirmed Monday that Amy Lovoy, former budget director and interim administrator for Escambia County, has accepted the position.
"We're excited to have her over here, she did a great job for the county, she's really good at budgeting, she understands it and knows it," Robinson said, describing Lovoy as "more than capable."
Lovoy recently resigned as interim county administrator with Escambia. She is one of several county staff members who have resigned in the wake of a state investigation into the county's Emergency Medical Services division.
Lovoy will begin work for the city beginning in June. Robinson intends for Lovoy to take on an "apprenticeship" role, with the expectation that she will take the reins from Chief Financial Officer Dick Barker sometime in the next three years.
"What we'll really be looking for Amy to do is really figure out how to wok with Dick, to learn what's here and to eventually be the person who can replace Dick," the mayor said.
Robinson also spoke about the potential for getting another Escambia County alumni over to city hall. While he said that he has yet to speak to Assistant County Administrator Matt Coughlin — who also recently resigned — about returning to his old haunts at the Pensacola International Airport, he left the door wide open for the possibility.
The mayor noted that Holley was currently working to retain Dan Flynn as director at the airport, and that Coughlin could come into play in such an equation.
"Dan said he needed some help out there, and the idea was to get somebody out there, so we will be doing that. If Matt decides to apply, or something else, that will be a decision that he ultimately has to make and we will have to evaluate," Robinson said, acknowledging that Flynn and Coughlin have a "good relationship" and that Coughlin "was in that role before."
Survey Says
Robinson also said on Monday that the city is almost finished conducting employee surveys in an effort to find out what city workers consider to be important aspects of their job and city culture overall. The survey period ends this Friday, with the city having already met it's participation goal of 70 percent.
"The goal was 70, and we're above 70," Holley confirmed.
"Seventy-three this morning," specified spokesperson Allie Norton.
"I'm very excited about that number," the mayor said, noting that there were still a few days left for employees to turn in their surveys. "So, the last 27 percent still have a chance."
Soccer and the Y
Discussions between the city and the YMCA of Northwest Florida in regards to a potential land-and-services swap continue to progress, Mayor Robinson said Monday. Currently, the city is looking at changing the zoning at its Vickery Center at the Roger Scott Athletic Complex in order to accommodate the Y relocating to the site and constructing a new facility.
"We'll be ready probably in June to have something come forward to council and the public," Robinson said, explaining that the issue would first come before the city's planning board so that the zoning could be dealt with.
Brain Cooper, director of Parks and Recreation, said that the bones of the discussion between the city and the YMCA have remained the same: the YMCA is looking to relocated from its Langley Avenue property, likely over to a site neighboring the Vickery Center on Summit Avenue, and the city intends to use the Langley space, along with property at Hitzman Park, to create a complex of soccer fields to accommodate the sport's steadily rising participation numbers.
Cooper said that the Y will likely initially lease space in the Vickery Center in order to continue providing services like after-school care and summer camps, then later construct a new facility next door.
"The idea, the concept is that they will build a facility in the future," Cooper said. "It's not gonna happen tomorrow."
Cooper said that he's hoping the city's soccer complex on Langley will be completed in early 2020.
"I was optimistic that we were gonna be out there this fall, and now that's obviously not going to happen," Cooper said. "So, I'm optimistically going to have soccer on Langley in the spring. And I'll remain optimistic about that."