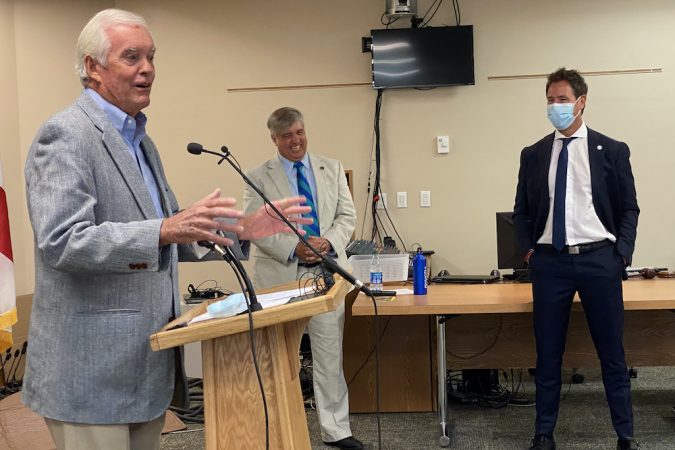 By Jeremy Morrison, Inweekly
Pensacola High School and Booker T. Washington High School — the two public high schools falling within city limits — already nurture a healthy rivalry, but this year there will be more than bragging rights at stake when the two football teams square off Sept. 3: the victor will claim the newly minted 'Mayor's Bowl.'
"This particular cup is going to take that rivalry up another notch," said former Pensacola mayor Mike Wiggins. "It's going to make the students yell and scream louder, it's going to make the players play harder, and we as grandparents and parents are going to sit there back and just enjoy the scene."
Wiggins, along with former mayor Ashton Hayward and the principals from both PHS and Washington, joined Mayor Grover Robinson Monday morning at his weekly press conference to announce the Mayor's Bowl concept. Robinson and Hayward attended Washington (though Hayward would end up at Catholic), and Wiggins is an alumnus of PHS.
In introducing the Mayor's Bowl, along with a fair amount of good-natured trash-talking, the value of teamwork was stressed.
"Not everything you learn is in the classroom; you do learn a variety of things, about teamwork, working together, achieving goals, through athletics," Mayor Robinson said.
"When you're on a team, it's all about teamwork and working together and being selfless," Hayward said.
PHS principal Saraya Miller said that her Tigers were up to the challenge — "we will be taking that cup home from the game" — and agreed that athletics could play an important role in a student's development.
"This bleeds right into our motto at Pensacola High School, where we are 'one school, one dream, one team,' where it does take more than just academics for the overall student," Miller said.
Washington principal Rick Shackle also stressed the value of extracurricular activities to the overall school experience and a student's future success.
"There's no secret formula for the students and their success — get involved in something. It's not just athletics, it's the academics, it's the clubs, get out and be involved in something," Shackle said.
Like Robinson and Hayward, former mayor Wiggins revealed split allegiances between the schools. While he attended PHS, his sons attended Washington … but he's got grandkids back at PHS.
"So, who do I pick? Who do I pick to win this game? I'm going to have to pick the Tigers," Wiggins reckoned, explaining that he'd like to take the trophy — and bragging rights — to his upcoming 60-year reunion.
"When you want to take the cup or the bowl or whatever it is," Shackle chided, "you can certainly borrow it out of my office."
COVID Rages On
The Mayor's Bowl, this year, will play out amidst a COVID spike. While the local area and state of Florida, in general, is setting records as the Delta variant sweeps the country, the football game will go on.
"We thought we had planned for this already; we would go ahead and introduce the concept, have the trophy. We hope people can go, but if they can't, we'll be prepared for next year," Robinson said, acknowledging that the current COVID swell could impede on the robustness of the event.
Although the COVID positivity rate — around 27 percent locally — and hospitalizations are down slightly, the numbers remain alarmingly high. On Monday, hospitalizations sat at 365, and that was a decrease from the preceding days.
"We are at least discharging more people than we're taking in," Robinson said, before adding that the levels were still too high and could impact hospital capacity. "We can't sustain at 365. I mean, we've got to get that number back below 200."
Last year around this time, the city implemented a mask order to limit the coronavirus's community spread. Gov. Ron DeSantis would soon blunt such local effort by declaring that local governments could not enact or enforce such safety measures.
Following the governor's action, Mayor Robinson spent months describing how the city was pushing the state to reverse course, to allow for so-called home rule, as outlined in the state constitution. On Monday, the mayor said that the city is no longer engaged in such pushback.
"I don't necessarily see us doing anything else outside of what we legally can do," Robinson said. "I tell people all the time, I'm the mayor, not the king."
Rainbows in Fairyland
Last week, the Pensacola City Council held a workshop with a development team that has proposed a project for two parcels at Maritime Park. The project calls for a convention center and parking garage but will take a pile of public money.
Council has instructed the mayor to continue exploring this proposal, giving the developers six months to present a formal plan, but on Monday, Robinson sounded less than optimistic.
"I mean, maybe we live in fairyland, and this will all work out, but we're going to see what happens," the mayor said.
The use of public funds to realize this project is a problem for the mayor and a few council members. Robinson said he remained "very concerned" about the convention center aspect of the proposal and found the funding prospects "challenging."
"Who knows, maybe a rainbow will land there, and we'll have a pot of gold, and we can build whatever we need to, but at this point, until that happens —you know, whatever we've gotta do has got to make financial sense," the mayor said.
Art Takes Flight at Bartram Park
Bartram Park is getting a new art installation. 'Folding Planes' is a sculpture by artist Kevin Box depicting the progression of a paper airplane.
"It represents the story of a piece of paper dreaming of flying," explained Mayor Robinson, "and it begins at the bottom as a blank page, proceeds seven simple folds to the top, where the airplane takes flight. Each fold symbolizes a choice or action taken to transform the dreams into reality."
This sculpture is a gift to the city from Holly Benson, an attorney who previously represented the area in the state legislature and was also a high school classmate of Mayor Robinson. The mayor said the city was proud to accept the art and contrasted it with a $75,000 worth of bronze statues that former Escambia County Sheriff David Morgan commissioned of himself and another officer and K-9, using public money.
"It stands in stark contrast to some of the other things that we had with public art last week," Robinson said. "It's good to see private individuals donate art and contribute to it, and it not be of an individual — it be inspirational rather than idolatry. I think that's an important part of it."