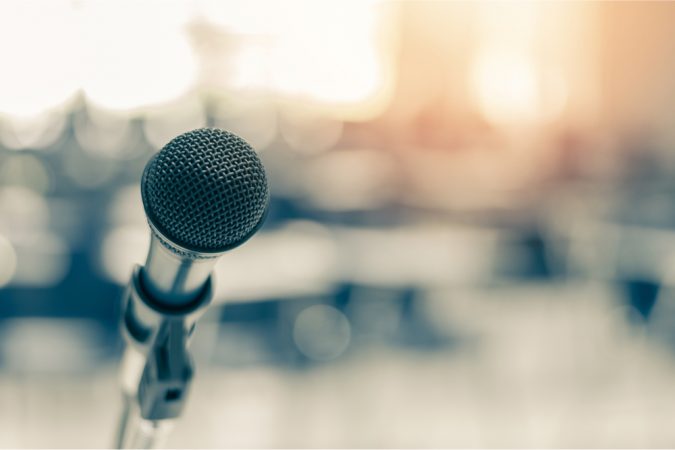 By Jeremy Morrison
The Pensacola International Airport is currently dubbed the 'Intergalactic' airport, an annual designation recognizing the local Pensacon event later this month, which celebrates sci-fi culture.
"I really appreciate the airport kind of playing along with it and making it a fun experience," said Pensacola Mayor Grover Robinson Monday, adding that the event tends to bring a lot of attendees through the airport.
Robinson took a few minutes to heap accolades onto the city's airport during his weekly mayoral press conference this week, calling attention to the facility's record-breaking year.
"In addition to bouncing back to pre-COVID passenger numbers," the mayor said, "our airport has broken its own record, beating our 2019 numbers by an increase of 4 percent."
Over the course of 2021, Pensacola's airport serviced 2.3 million passengers. That's 87,000 more passengers than 2019, previously the city's high watermark.
Robinson attributed the airport's success to a confluence of circumstances, including an increase in the facility's offerings and a decrease in its prices (the mayor cited a Value Penguin study, which pegged Pensacola's airport as the cheapest in the country, along with Newark, New Jersey.
"I think it speaks to several of the things that we're doing there," Robinson said of the airport's success last year. "We have more flights than we had pre-COVID, we have more airlines than we had pre-COVID, and we have lower prices than we did pre-COVID."
Power of the Month-to-Month?
The Pensacola City Council is currently deciding if a municipal utility feasibility study should be conducted. Mayor Robinson held tight to his consistently cynical view of the discussion on Monday.
"As far as I'm concerned, this couldn't be a worse time to do it," the mayor said of entertaining any ideas of upstarting a municipal utility company, citing current materials costs and labor shortages. "Now would be the worst time for us to evaluate that."
The council is considering the feasibility study against the backdrop of somewhat-stalled franchise fee negotiations between the city administration and Florida Power & Light. Mayor Robinson said Monday that the city had been "fairly close" on reaching an agreement with Gulf Power (prior to FP&L's arrival) over the summer, but then the talks turned south due to FP&L's "petty" approach to negotiations.
"I thought the legal team at FP&L really did a disservice to those negotiations; they really went backwards; they put some petty language in there," Robinson said, mentioning that the company wanted the city to travel to South Florida to negotiate.
Robinson said that a previous contention in the negotiations involved city staff's desire to increase the franchise fee higher than the 6 percent ceiling implemented by FP&L. That, however, is no longer an issue, as the mayor decided the fee — a charge paid by local power customers — should not be increased beyond 6 percent.
"It doesn't come from some magical place, it comes from the people that live in this community, and it makes power more expensive if we go up on it," Robinson said of the fee.
As for the ongoing franchise negotiations, the mayor said he's alright with the city's month-to-month status, which he called "a pretty good" arrangement.
"I'll tell you right now, as I said over the fall, for me, I could care less if we don't have any agreement until after I leave at the end of the next fall, and I don't know why you wouldn't leave it to that point," Robinson said. "The issue is, if you want flexibility, a 10-year deal or a five-year deal is not as flexible as a month to month. If you really want flexibility, we don't need anything to necessarily do if it's not going to be good for the city of Pensacola and the citizens of Pensacola."
The mayor also contended that the city could not afford to divert its attention — or resources — from other municipal efforts, such as its goal to create 500 units of affordable housing within five years.
'Homelessness Is Not Over'
The former homeless encampment located beneath the I-110 overpass near downtown is currently being cleaned up prior to the Florida Department of Transportation beginning work on a greenway project. To clear the camp, the city had to relocate individuals residing there.
Mayor Robinson acknowledged Monday that the closing of the encampment — sanctioned for about a year by the city — was but a step in the ongoing process to improve the outlook for the area's homeless population: "We didn't win and stop homelessness."
"Listen, homelessness is not over. We've moved a bunch of people, we've made life better for them, but we didn't stop homelessness, we're going to continue to experience and deal with that," Robinson said. "What we need to do is be more willing and creative going forward."
The mayor said that the partnerships forged between various community groups that serve the homeless community would continue beyond this encampment phase — during which a collective of organizations had input on how the city spent up to $3 million in federal funds — and will hopefully be expanded to include other local governments, such as those of Escambia and Santa Rosa counties.
"We now have some incredible partnerships that we didn't have before," Robinson said, also suggesting that the city and other jurisdictions should designate funds in their annual budgets to address the issue of homelessness.
The mayor also noted that he wasn't sure if the city's experience, during which critics had various concerns and complaints, would be too inviting for other local governments — "Everyone ended up attacking the one individual who was trying to help, and I don't know that that will make them want to do it" — and also expressed concerns that local media undersold the city's efforts in its coverage of the issue: "I mean, I think we have been successful, I don't think it was portrayed as successful."
"That'll shape probably more of where the narrative goes from here, is how it's portrayed," Mayor Robinson said.