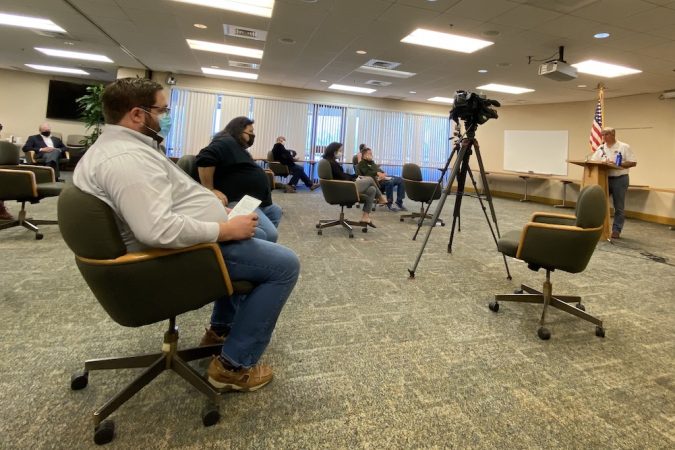 by Jeremy Morrison, Inweekly
Now that Pensacola Mayor Grover Robinson has decided not to run for re-election, he's already dreaming of who might lead the city next. Literally. And it's pretty weird.
"I had this dream that Andrew McKay was running for mayor," Robinson said Monday, motioning over to the 1620AM radio personality a few feet away at the weekly presser. "By the end of it, he had actually won mayor."
While that vision is unlikely to come to fruition, another of Mayor Robinson's forecasts may be more accurate. While reflecting on the recent Maritime Park development deal that looks to have slipped away, the mayor said he expects Pensacola to grow in future years.
"The demand for Pensacola is strong, and that's a good thing," Robinson said. "The challenge that we have is if you just have demand going strong with no supply, you're going to end up pushing up prices."
The mayor said that he thinks Pensacola and other midsize urban areas will grow because they've demonstrated some advantages over their larger counterparts during the COVID-19 pandemic.
"I think small to medium-sized cities have shown what they can do and positioned themselves well as we go forward in the future with dealing with things like a pandemic and a variety of other issues that become difficult for businesses, and they've got to think about what they're going to do," he said.
To meet this demand, the mayor stressed the need to increase the city's housing units if the area was to maintain its current level of affordability or improve.
"That means we'll have significantly more units," Robinson said. "We need additional development happening at this particular time if we are concerned about affordability in the city of Pensacola."
A Run for Gaetz's Seat?
With Northwest Florida Congressman Matt Gaetz under investigation for allegedly violating federal sex trafficking laws involving a 17-year-old girl, Mayor Robinson fielded a couple of questions related to the local representative.
Asked if he thought Gaetz's current circumstances would damage the area's relationship with officials in Washington D.C., Robinson said, "Obviously, Matt was very influential with the last administration, so some of those things have changed with this administration."
He continued. "At the end of the day, we'll see what happens. I think probably the more significant issue happened with the change of administration; that was where Matt had significantly better influence with the prior administration than with the current one."
The mayor also said he did not intend to seek Gaetz's seat in the U.S. House. The question, however, has been a popular one since he announced last week his intentions to wrap up his political service when his term ends in 2022.
"I went one day, and immediately it became all about congress," Robinson said, stressing that he had not made his announcement in anticipation of the yet-released news about Gaetz — "It certainly was not planned" and remained confident in his decision to retire. "The interesting part is that my children—that couldn't wait for me to get out of local government fast enough—have said they both want me to run for Congress. But I'm not sure that's going to be enough to sway my wife and me."
The mayor said that he has not felt called to serve in state or national politics, preferring to serve in Northwest Florida.
"At this particular time, once I get to 16 years, it's going to feel like enough," Robinson said. "So, it's time for me to move aside and make room for Andrew to come in and do what he's going to do."
The Wait-Around Roundabout Workaround
After meeting with Florida Department of Transportation officials recently, Mayor Robinson said that he feels "very optimistic" that the Pensacola Bay Bridge will be repaired and back online by Memorial Day.
What's more, the flyover coming off the bridge and into Pensacola is also expected to be completed at that time. Unfortunately, the associated roundabout will not be finished until around mid-July.
During that interim, traffic coming off the bridge and wanting to get off Gregory Street will exit on 17th Avenue. Drivers traveling onto the bridge from Pensacola won't be allowed to use 17th or 14th avenues because of cars' speed coming off the bridge to downtown Pensacola and I-110.
The mayor admitted, "It's not perfect, it's not what we want, but we do feel like that's probably the safest option for probably six weeks."