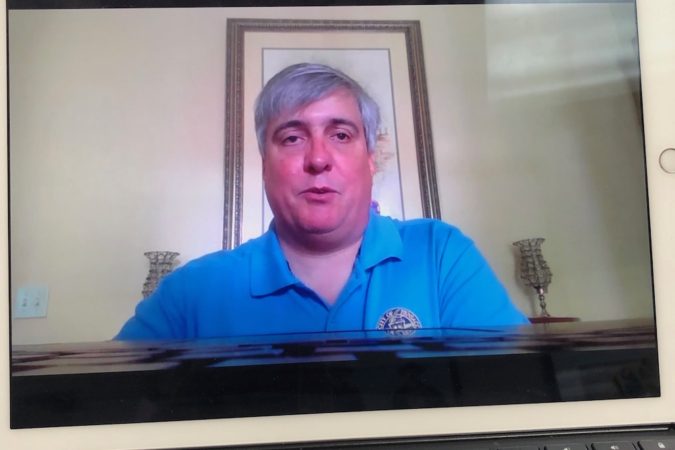 By Jeremy Morrison, Inweekly
Pensacola Mayor Grover Robinson said Monday that he thinks the local senior care facility that has experienced a number of COVID-19 cases should be identified by local officials. Escambia County officials, deferring to the state, has thus far refused to identify the facility.
"I don't think this is the right decision at all," Mayor Robinson said.
Addressing the issue during his regular Monday morning press conference — conducted virtually for the second week now — the mayor noted how the state Department of Health determined the release of such information, but said he thought identifying the facility would help alleviate fears in the community.
"Certainly, everybody's on edge and it would have been better for us to identify where this is occurring," Robinson said. "I think it's the wrong decision for us to do., and I would hope we would rethink that one."
While he said he did not know the identity of the facility, Mayor Robinson said he did understand it to be within the city limits. He suggested a tracking of zip code data included in recent COVID-19 count reports would likely enable one to zero in on the facility.
"I would tell you to go look at your zip code map over the last couple of days," the mayor said.
In other coronavirus-related updates, Robinson said that hospital officials are reporting that there are currently no issues with capacity at any of the facilities.
"They all seem to be on green at this particular time, so that's a good thing," he said, estimating current capacity to be between 10 and 15 percent.
The mayor did note that the local region is only now entering perhaps the roughest patch of the season, and stressed that social distancing measures should continue being observed — "The next two weeks are critical" — but also suggested that sectors of society might begin reopening come May.
"I don't see things opening up all at once," Robinson said, explaining that the reopening process would probably be phased.
(Political?) Party in Attucks Court
Also during Monday's presser, Mayor Robinson spoke about a gathering in Attucks Court which Pensacola Police shut down over the weekend. The gathering apparently far exceeded the 10-person limit being recommended to curb the spread of COVID-19.
"We had a gathering of probably hundreds of people," Robinson said.
The mayor said that the party was "mostly people that were under 30," and perhaps not as concerned about warnings to social distance from one another.
"It's not just about you, it's about others related to you," Robinson said.
In a curious aside, the mayor also alluded to "a variety of rumors" he had heard that the weekend party was associated with the launch of an individual's mayoral campaign.
---
Unfortunately, Mayor Robinson's clue to the location of the infected nursing home isn't very helpful.  Several of the city's zip codes have similar positive case totals. We listed the nursing homes in those zip codes, but the county and Dept. of Health have not reported if any of those facilities have the COVID-19 virus. The states reports Escambia County has 29 cases in long-term care facilities.
32501: 25
32502: 12
32503: 18
32504: 14
32505: 18
Long-term Care Facilities by Zip Code
–All the facilities listed may not be in the city limits
32501:
Rosewood Healthcare and Rehabilitation Center, 3107 N H St.
Pensacola Health Care, 1717 W Avery St.
Westminster Village, 1700 N L St.
Home Instead Senior Care, 817 N Palafox St.
Wesley Haven Villa, 111 E Wright St.
32502:
Southern Oaks Care Center, 600 West Gregory St.
32503:
The Blake at Pensacola, 428 Airport Blvd.
The Haven of Our Lady of Peace Nursing Home, 1900 Summit Blvd.
The Waterford at Carpenter's Creek, 5918 N Davis Hwy.
32504:
Bayside Health and Rehabilitation Center, 4343 Langley Ave.
Summer Vista Assisted Living, 3450 Wimbledon Dr.
Pleasant Home ALF, 1015 Vernon St.
32505:
Consulate Health Care of Pensacola, 235 W Airport Blvd.
Wesley Scott Place, 3300 W Scott St.