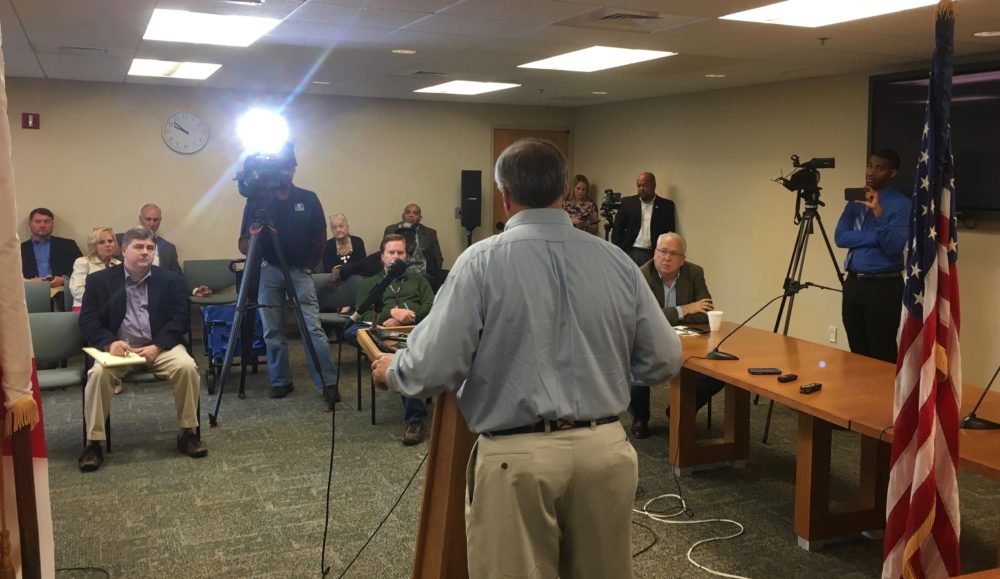 by Jeremy Morrison, Inweekly
–After patching together must-have funding commitments for Project Triumph last week, Pensacola Mayor Grover Robinson said the city's hopes for the jobs-and-infrastructure project now rests with the state coming through to make up a remaining shortfall.
"At this time, Chris, we haven't gotten a $20 million letter in from the state of Florida?" Robinson joked with his city administrator during Monday's press conference.
Project Titan — a $210 million project at the airport aimed at jumpstarting a regional aerospace industry and creating jobs — was among a list of subjects the mayor discussed during the presser, including changes being considered to a planned soccer complex and safety measures in store for West Cervantes Street.
Playing Wait-and-See with FDOT and ST
Last week, Mayor Robinson secured $20 million for Project Titan and essentially ensured that the project would not miss out on $56 million of funding from Triumph Gulf Coast, the organization responsible for allocating money stemming from environmental penalties associated with the 2010 oil spill. Even so, the deal is still dependent on another $20 million from the Florida Department of Transportation, which has not been granted as of yet.
"Everything is sort of predicated with us getting this," Robinson said of the FDOT money.
The mayor said that he's hopeful that the city's success in securing $5 million each from both the Pensacola City Council and Escambia County Board of County Commissioners, as well as another $10 million from Triumph, will convince FDOT to throw its financial support behind the project as well.
"Hopefully now that we've covered those three hurdles that we had to get over, they will come in and commit to that final portion," Robinson said.
The city was initially looking for an additional $12.5 from Triumph last week, but board members would only allow for the $10 million. Robinson said then, and again during Monday's press conference, that he felt sure the city could secure the lacking millions.
"We think we can manage to close that gap," the mayor said.
Assuming the state comes through with another $20 million, Project Titan is a go. And as of Friday's meeting with Triumph, the deal now requires the city's corporate partner, ST Engineering, to make a bigger commitment on the jobs-and-training fronts: the aerospace firm must now assure its jobs stick around for at least seven years, as opposed to a previously agreed-upon three-year term, and will be expected to expand its training programs to benefit areas across northwest Florida.
Robinson said that ST and Triumph were still hammering out the details, but that the company's executives seemed to be willing to proceed under the new arrangement.
"They are trying to move forward and they are going to work with Triumph — I mean, I can't say exactly what they are going to do, but as long as we get the $20 million from the state of Florida, they're ready to move forward," Robinson relayed his conversations with ST following the Triumph meeting.
The mayor also addressed critics — Escambia County Commissioner Doug Underhill among them — who contend receiving $20 million from FDOT for Project Titan will theoretically or literally drain money away from other regional efforts, such as sidewalk and streetlight upkeep.
"Here's what Underhill knows, and what got me so mad the other day: airport stuff does not come at the cost of any of the other things there," Robinson said, clarifying that FDOT allocates aviation-specific funding. "That money does not put a drain on anything dealing with roads, bridges, safety or anything else. It is strictly there for airports."
Soccer Complex Changes
Despite concerns in the surrounding neighborhood, Mayor Robinson said that the city is moving ahead with discussions with the YMCA in regards to a potential land-and-services swap that would see the city acquire land on Langley Avenue to locate a soccer complex and allow for the Y to move into the city's Vickery Center near the Roger Scott Athletic Complex.
The city has, however, attempted to address some of the concerns being voiced. Mayor Robinson outlined potential changes to previous plans that include cutting less tress and reducing the footprint of the soccer fields.
"We've significantly shrunk the fields," Robinson said. "We went from 200 trees to less than 60 trees, and we went from 38 heritage-type trees to eight. So, it was a significant decrease."
The mayor also assured that the "disc golf will not be touched at all" and listed off a number of other revisions, including a berm meant to lessen the impact of noise and light on nearby property owners.
A Safer Cervantes
West Cervantes may soon get a bit safer. The mayor said that FDOT will soon be making some improvement to the stretch of state road that currently demands pedestrians brave four lanes of speeding traffic with few crosswalk opportunities.
"I'm excited to see what we get," Robinson said of the safety improvements.
Some of the improvements FDOT intends to make include more crosswalks, crossing signals, and flashing speed signs. The mayor noted it would also require an "attitude change" to make the streets safer for pedestrians.
"I think somebody said 'roads are for cars.' They're not just for cars," the mayor said, adding that he would also like to see the lanes on Cervantes slimmed.
Return of an Independent Personnel Board
Though he's not sure what exact form it will take, Mayor Robinson repeated his commitment to reestablish a board to review employee complaints.
"We're going to do something," Robinson said. "I don't know how it's going to be set up."
The mayor said he was familiar with such a board at the county level, where he served as a commissioner — the Merit System Protection Board — and that the city may also review other models.
"I made the commitment. We will have something," Robinson said. "I'm just not sure which model we're going to go with right now."