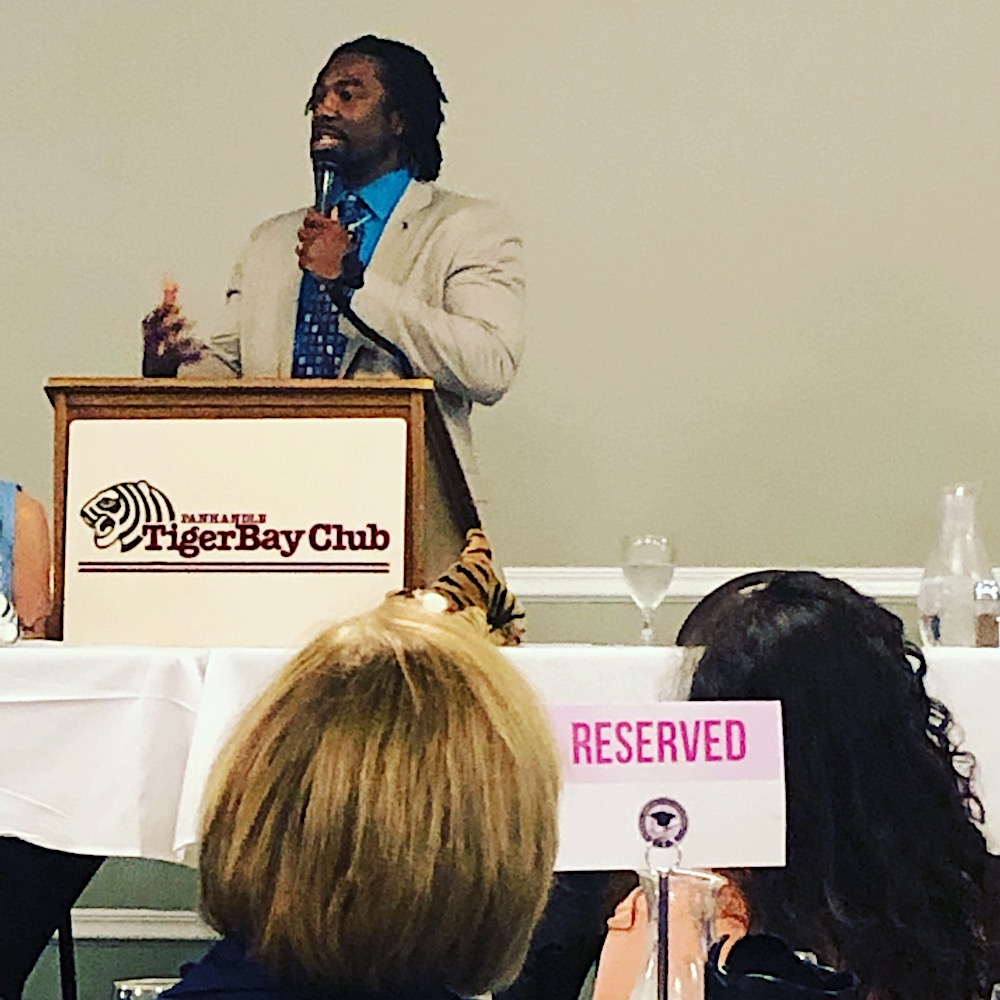 When Education Commissioner Richard Corcoran last Friday traveled to Pensacola to speak to the Panhandle Tiger Bay Club, he brought with him the 2020 Florida Teacher of the Year, Dr. Dakeyan "Dre" Graham.
Dr. Dre's serves as the Director of Bands and Instrumental Studies at his alma mater, C. Leon King High School. He holds Bachelor's and Master's Degrees in Music Education (University of Florida), a Master's in Educational Leadership (Concordia University), and a Ph.D. in Music Education (University of South Florida).
Commissioner Corcoran invited Graham to talk about the importance of opportunity in public education.
"I think we're in a unique place right now where we're really getting the chance to emphasize the importance of providing students with the opportunity to have a high-class and world-class education," said Graham.
"I had that chance whenever I was a student, and being able to see and teach in a Title I school and to affect the impact of what happens, has been such a significant part of my life. And then having the chance to provide that opportunity to other students moving forward, that pay it forward mentality, has been something that's incredibly significant."
A Teacher of the Year, he has met with teachers in districts around Florida.
"One of the messages that we've been trying to push forward is remembering your why," Graham shared. "So often, we get bogged down in the rigamarole and the monotony of doing the same thing over and over that we forget the reason why we're here."
He talked about how his students have taught him how to be a teacher. "Those students and getting the opportunity to interact with them and grow with them and learn more about them, it actually ended up teaching me more about myself, gave me an opportunity to continue to self-reflect and to really work to refine my craft."
He continued, "Whenever I'm gauging my impact and my role in society, it always comes back to my students. When we're looking at the importance of the influence of education, it always goes back to the students. What are we doing as a community to impact the lives of students?"
For Graham, no other profession exists without education. "Think about that for a moment. Without teachers, nothing else exists. So what are we doing as a community to make sure that we're investing in our the future?"
"No teacher is an island; no school is an island. You've heard the adage it takes a village, and that is so true whenever, even if we're just looking at not just one student, but one community. It's the community involvement that allows us to continue our forward momentum to a better tomorrow. So as we are looking into what can you do for your community, what can you do for your society, get back to education."