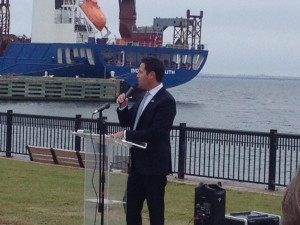 The new game in town is "Waiting for Ashton." It consists of giving him a report, having a press conference and then waiting for the mayor to make a decision. Right now, Hayward has on his plate the disparity study (since August), Urban Redevelopment Advisory Committee (URAC) report (since October) and what to do about DIB (November).
The Pensacola Young Professionals have decided to not wait any longer on Mayor Hayward. PYP's leadership team has combed through the report and selected about 10 items that are of particular interest to their members:
1. Creating New Development – Study for the Best Use of the Port
2. Creating New Development – Simplify LDC and Create One-Stop for Investors and Developers
3. Tourism and Other Activities – Development of Commendencia Slip
4. Tourism and Other Activities – Cultural Heritage Tourism Projects
5. Housing and Neighborhoods – Aggressive Code Enforcement on Dilapidated Structures
6. Housing and Neighborhoods – Infill Housing Program
7. Mobility – Holes for Bollards
8. Mobility – Pedestrian and Bicycle Connectivity Paths
9. Marketing Our City – Merge Marketing Efforts for the City
10. Creating New Jobs – Increase Workforce Training for Targeted Industries
The URAC Report Forum will take place Tuesday, January 22 at the Fish House Deck from 6-7:30 p.m. At the meeting, URAC chair and PYP member Brian Hooper will address the selected topics and answer questions from members. By the end of the meeting, PYP members and guests will select their "top three" recommendations which our organization will then endorse and lobby our leaders to adopt and implement.