Press release: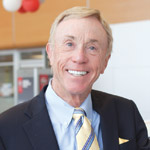 Sandy Sansing has donated a Chevrolet 12-passenger van to The Arc Gateway! The Arc Gateway's Transportation services bring people with intellectual and developmental disabilities to the much-needed opportunities they would not otherwise have – recreation, education, camaraderie and meaningful work.
Since 2004, state funding cuts have taken a toll on the program's budget. Vehicle purchases were postponed while the agency sought more financial footing to recuperate from reduced funding. As the fleet aged, repair costs have diminished any ancillary funds to purchase newer vehicles. Currently, The Arc Gateway has a fleet of 39 vehicles, with 15 of those having traveled over 100,000 miles. The donated van will be replacing a van with 230,000 miles and a broken A/C.
"Our family is honored to be able to help such a wonderful organization," says Sandy Sansing. "The Arc Gateway does great things for our community, and we are blessed to be a small part of that."
The Transportation program is a life-blood of the organization as it provides service to not only those we serve in our local community, but also as far away as Navarre, Milton and McDavid. The people we serve have special needs that are not currently met by the community's public transportation.
"We are humbled at the generosity being shown by Mr. Sansing," says Melissa Rogers, CEO of The Arc Gateway. "This kind of community support is what allows our agency to continue serving people with disabilities successfully."
Without this service, the 226 individuals served by this program would not have access to our day programs, which enables the opportunity to gain independence, engage in physical activity, social opportunities, meaningful work and the chance to earn a well-deserved paycheck. Additionally, this service provides a vital respite to families and caregivers, and gives them the opportunity to hold other jobs outside the home.