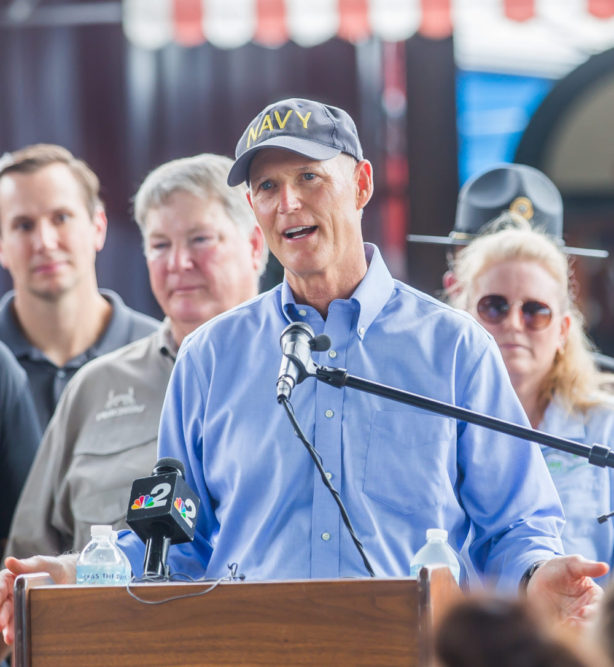 Gov. Rick Scott gave his State of the State address today. Here are his big "asks" of the Florida Legislature:
# "I want 2018 to be the year that Florida voters pass a constitutional amendment that makes it harder for politicians to raise taxes. My proposal would require 2/3rds of the legislature to vote on a tax increase for it to become law."
# "I want to reduce those fees back to pre-2009 levels by cutting the fee for the renewal of a regular driver's license by more than 58 percent from $48 to $20; I want to cut the fee on an original regular driver's license by more than 43 percent from $48 to $27; and I want to cut the fee on an original Commercial Driver's License by more than 10 percent."
# "My proposal extends the current one-week sales tax holiday to three weeks over a three-month period to ensure people have ample time to get the goods they need before the start of hurricane season."
# "This year, I am proposing $12 million in funding to establish the English Language Learners Academy. This program will focus on reading improvements and making sure students displaced by Hurricane Maria have access to important learning programs."
# "I hope each of you will support my proposed pay raise of $30 million for all state sworn officers this year. I am also proud to support a measure that is going through the Constitutional Revision Commission to give free tuition to the families of fallen first responders, state law enforcement officers and military members who have lost their lives in the line of duty."
# "This year, I have proposed to invest $53 million to fight opioid abuse in Florida. I have also proposed legislation to prevent drug addiction on the front end, reduce the ability for dangerous drugs to spread in Florida's communities, give vulnerable Floridians the support they need, and ensure law enforcement officers have resources to protect those impacted by opioids."
Here is his entire speech.