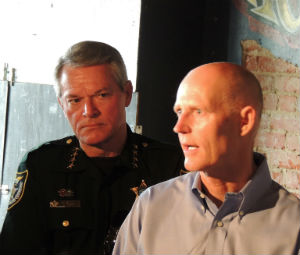 Gov. Rick Scott told a group of 20-30 downtown business owners at Hopjacks that the state will do whatever it can to help this community recover and rebuild.
"We are going to hold everyone accountable, and we want you to hold us accountable," said Scott.
The governor was toured the Piedmont area with Florida Senate President Don Gaetz, Mayor Ashton Hayward, State Reps Mike Hill and Clay Ingram, and Sheriff David Morgan as well as representatives with FEMA. He praised the business owners for their recovery since his April 30 visit.
"You will rebuild, even better than before of the amazing people here," he said.
Senate President Don Gaetz thanked the governor for coming to the area so quickly last week. "The governor brought immediate and material assistance," said Gaerz. "We have had to rebuild Northwest Florida before. We will rebuild Northwest Florida again."
Rep. Ingram said the state has approved bridge loans and his office will be releasing more information on that today.
Scott listened to the business owners, some of which brought photos of their damage. Bill Dollarhide said that his downtown business will be closed for three to four weeks as they recover from the flooding on Palafox Place. Because the storm damage isn't from wind, but from flooding, he and several businesses won't be able to file insurance claims. He asked the governor for help.
Currently FEMA is only taking care of Individual Assistance claims. As of yesterday, 2,500 people in Escambia County have made applications.
Before he headed to the Board of County Commission meeting, Gov. Scott said, "We will show up and do the right thing."