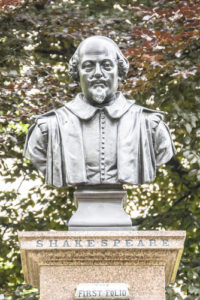 Press Release: Ten years ago, a group of teen actors and their teacher founded an acting company in Pensacola out of an enthusiastic desire to the study and perform the works of William Shakespeare. The company was dedicated to the notion that Shakespeare is for everyone and to the belief that young actors are fully capable of understanding and interpreting for an audience the greatest plays ever written. This year, the Southeastern Teen Shakespeare Company celebrates its tenth year with a late-summer production of Hamlet at the Pensacola Cultural Center.
"Over the years, ninety teens have been members of the company," said Michelle Hancock, who has been SETSCO's director since 2009. "Most kids average three years of membership, but the record for longevity is held by Benny Brustad at six years."
Mr. Brustad will be performing the role of stage manager for Hamlet, a job he first stepped into at the age of 14 for SETSCO's production of The Tempest. Now a student at FSU, he is studying math and education with the ambition of becoming a teacher.
"Since it's a special anniversary year for us," Hancock said, "we have invited SETSCO alumni to come and play with current company members. It's been a lot of fun seeing old friends and working with them again, but we also have a few kids in the show who have never before been on stage. It is always a joy to be able to give a young person his first experience of playing – we are a teaching company, and with Shakespeare, there are always plenty of roles to go around."
Arguably the most famous of all of Shakespeare's plays, Hamlet is also the longest and most psychologically complex. Hancock has cut the four-hour script down to three hours and inserted two intermissions. The play tells the story of a son's quest to avenge his father's murder – it is a ghost story, a love story, and a tale of revenge that features castle intrigue, plots and spies, madness, and swordplay.
SETSCO will offer six performances of Hamlet beginning July 24. Tickets are $15 and available through the Pensacola Little Theatre box office, 850-432-2042. The show is support by a generous grant from the Albert E. and Birdie W. Einstein Fund.
The Southeastern Teen Shakespeare Company is a non-profit organization dedicated to providing teens in Escambia and Santa Rosa counties with instruction and performance opportunities that lead to their significant growth as artists and community members.
Event: Southeastern Teen Shakespeare Company's Hamlet
Performances: July 24, 25, 31 and August 1 at 7:30p.m.
July 25 and August 2 at 2:30 p.m.
Venue: Pensacola Cultural Center, 400 S. Jefferson Street
Tickets: $15 all seats
Box office: 850-432-2042