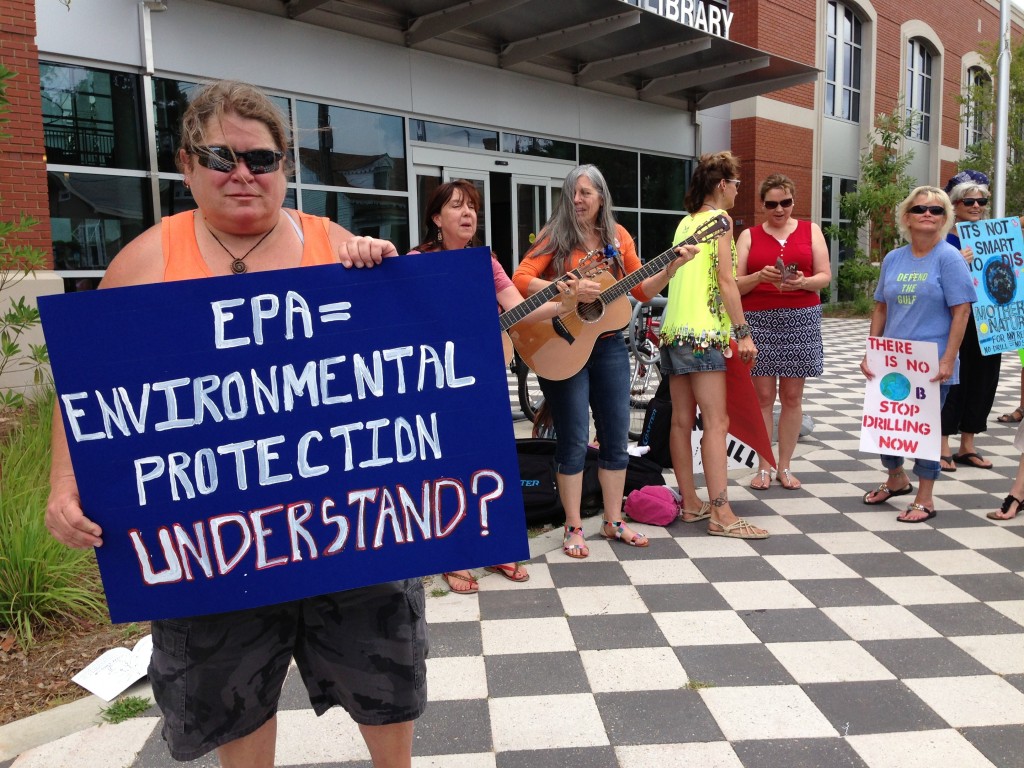 Environmentalists are at the Pensacola downtown library, waving signs and singing songs. They are protesting an oil company's request to waive emission standards for a Gulf of Mexico drilling operation.
The environmentalists are also awaiting the public hearing they pressed the Environmental Protection Agency to schedule. It begins at 3 p.m. today inside the library.
BHP Brilliton received a permit from the EPA a year ago to drill in DeSoto Canyon, 125 miles offshore from Pensacola. No drilling operations have yet commenced—the permit covers exploratory drilling from mobile rigs—and now the company is requesting an amendment to its permit to allow for increased emissions of particulate matter, volatile organic compounds and greenhouse gases.
The EPA hearing on Brilliton's request begins at 3 p.m. at the downtown library, 239 N. Spring St. The deadline for public input ends at the close of this meeting.
Public comment may also be mailed to the EPA, at : Art Hofmeister, EPA Region 4, APTMD, 61 Forsyth St., SW, Atlanta, GA 30303; or via email, at hofmeister.art@epa.gov; or, online, at www.regulations.gov/#!docketDetail;D=EPA-R04-OAR-2013-0416.
For more information on bhp's permit request, visit www.epa.gov/region4/air/permits/ocspermits/bhpbilliton_ocs.html.