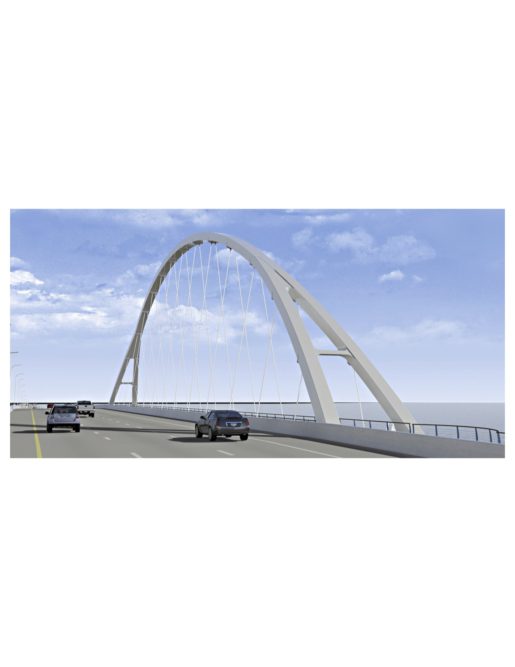 Pensacola City Councilman Brian Spencer said on News Talk 1370 WCOA's "Pensacola Speaks" that he was not impressed by the design renderings for the new Pensacola Bay Bridge that were released last week.
"I sure hope that people understand I appreciate this dollar allocation for the Northwest Florida area," he said. "It's highly unusual for us to have an infrastructure project of this magnitude dollar-wise. However, when I look at some of the other iconic bridges and including some that aren't what I would call a primary signature city, like for instance what Charleston has, I'm underwhelmed with the solution."
He was disappointed the criteria for the new bridge didn't stipulate an emphasis on innovative design, and the bid proposals weren't weighted based on their technical aspects.
The Florida Department of Transportation selected Skanska USA Civil Southeast, with its bid of $398.5 million, as the contractor for the Pensacola Bay Bridge replacement. Though Skanska had the lowest design scores out of all competing contractors, its proposal price was $69 million less than the next-lowest bidder, which gave it the nod when the scores were weighted.
"Mere functional resolution is kind of a bare minimum standard for which to measure the success of projects that are a combination of both engineering functionality and aesthetics," said Spencer, who is an architect and developer.
"Bridges are a celebration of man's achievement—whether it be through innovative uses of concrete stands, steel and the advent of steel that became a material that completely changed bridge's design," he said.
Spencer added, "In my analysis of the weighted scale and evaluation process, it puts such a heavy emphasis on the lowest cost that it provided really an easy avenue for the lowest bidder to immediately jump to the front of the race."
The councilman was also concerned about the lack on public input.
He said, "My disappointment is that the community wasn't invited to participate years in advance in workshops that would have really given FDOT, which was the driver of the train, the opportunity to create a package of design specifications."
In the next few weeks, FDOT will release all the design proposals. Spencer hopes the agency may be open to incorporate more innovate designs in the contract with Skanska USA Civil Southeast.