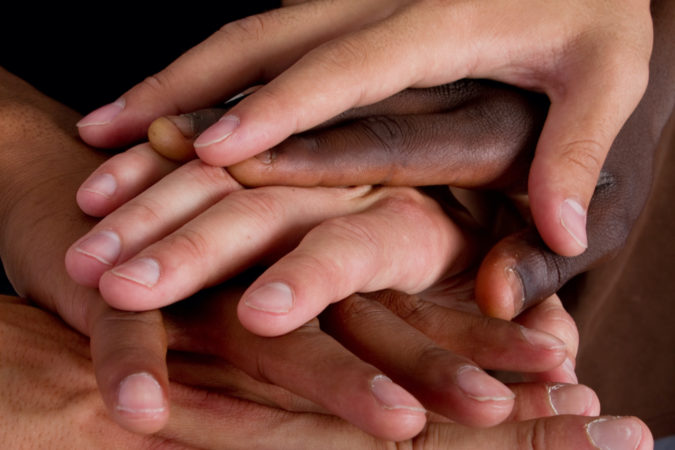 The world is taking a pause, and we have felt the ground shift beneath our feet. We have two major shifts taking place. One is COVID-19 with concerns of health and safety.
And the second is to combat systemic and institutional racism that exists in our community.
2020 will always have two parts: the before and the after. Before COVID-19. Before the world watched yet another senseless death of an unarmed African American.
Now, we are in the after. And we have choices to make. Sitting idly by and waiting for the world to go back to normal isn't an option.
Just as we've adjusted our day-to-day business to deal with the tragedy of a pandemic, we've also been listening, learning, and working to adjust our organization to combat systemic and institutional racism that exists in our country. Over the years the Studer Family of Companies (SFOC) has always worked very hard to make a more inclusive and diverse company and community.
Here is what we have done in the past.
We created an agreement called the Covenant for the Community that states in order to get a construction contract for one of our projects (Urban Core, Maritime Office Building, Southtowne multiuse apartments and retail, Savoy Place and SCI Building), at least 70 percent of the people working on the project have to live in either Escambia or Santa Rosa County.  This means that a minimum of 70% of all labor dollars stay local. Based on our construction projects, we estimate over $49 million towards local labor dollars. The impact of a dollar spent locally is indeed a powerful thing, as it creates a positive ripple effect (turning over many times). Minorities make up 30 – 50% of the workforce on the construction project. Which again leads to significant local labor dollars.
We are pleased that Commissions for Escambia County has voted to adopt the Covenant for the Community and we encourage the Mayor and City of Pensacola to do the same.
We've also created The Spring Entrepreneur Hub, a program of Studer Community Institute launched a Black-Owned Small Business Microgrant Program. It will provide grants totaling $50,000 to eligible Black-Owned small businesses in Escambia County.
Each microgrant will provide a minimum of $1,500 per business. While all black-owned companies are eligible to receive grant funds, preference is being given to companies that did not receive any of the COVID-19 state or federal programs during 2020.
We don't believe that is enough. We want to do more.
At Studer Families of Companies we're taking action to help our organization eliminate bias and become more inclusive to all of the families, businesses and citizens we serve by hiring the V. Randolph Brown consulting firm; a group that specializes in helping companies become more inclusive and diverse.
"We have begun a multi-step process with them to help us identify bias in our organization and eliminate it, educate myself, the staff, and to do a much better job hiring, training and developing diverse talent.
We do many things well. We measure employee engagement, provide lots of development opportunities, are transparent, include peers in staff selection, and did not lay off any staff during the ongoing pandemic. However, I am convinced we can and must be better in the areas of eliminating bias and becoming more diverse and inclusive," Quint Studer, Studer Family of Companies, said.
Randolph Brown Consulting, based in Cincinnati, provides companies across America with strategic consulting, advisory, education, and training services on topics including diversity, equity, and inclusion. Their portfolio includes advising the National Basketball Association and NCAA.
The firm will work with Studer Family of Companies to identify and eliminate possible bias in our organization, educate and train the staff, and improve hiring and staff development processes.
Our mission as an organization is to improve the quality of life. For everyone. Our vision is to make those communities that we serve the greatest place to live in the world.
As we learn, we encourage other companies and government entities to join with us.