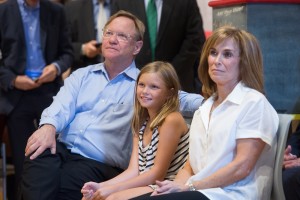 Quint Studer said tonight the proposed UWF Center for Entrepreneurship, conference center, and child care facility for the Community Maritime Park won't work after Mayor Ashton Hayward rejected the CMPA-approved leases and made a new series of demands of the Studers.
He posted on Twitter:
@quint_studer: Studer: UWF center no longer feasible at Maritime Park
Studer appeared on WEAR TV and said, "It's the third time we've gone to mat. Maybe it's just me, but I'm just not cut out to do business with the city."
He said the he is still committed to the Pensacola metro area and to the University of West Florida. He and his development team are looking at other options that don't involve the Community Maritime Park or the mayor's office. He commended the CMPA for approving the leases, but was clearly frustrated at how the mayor's office has handled the process, which he called "ambiguous" at last week's council meeting.
Studer explained his and his wife's proposals for parcels 3, 6 and 9 were not moneymakers, but were offered for the greater good of the community. The new lease demands made by the mayor's office made the proposed uses no longer economically feasible.
Mayor Ashton Hayward was unavailable for comment for the 10 p.m. broadcast on WEAR, but the mayor did talk about the negotiations on Newsradio 1620 in the late afternoon.
"I think we're going to get it done," said Hayward. "Our attorneys met yesterday afternoon, and we've got some things on the table."
The mayor added, "I know Mr. Studer likes a win-win, as we do. The citizens of Pensacola are excited. We're excited at city hall. Obviously the council and I am, so I think things are moving in the right direction."
Friday will be a very interesting day.