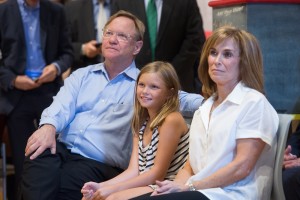 A year after Chicago-based Huron Consulting Group acquired Studer Group, in a $325-million deal, Quint Studer announced he will step away from the company he founded.
Since the Huron acquisition, Studer has maintained an active speaking schedule for the company. However, he hasn't been involved in the day-to-day operations. BG Porter is the CEO, and Debbie Ritchie is Studer Group president.
At breakfast at the Bodacious Brew on Thursday, Quint told me that he wants to focus on the redevelopment of downtown Pensacola, the Studer Community Institute, UWF Center for Entrepreneurship and other projects here and in Janesville, Wisconsin.
"I think that some of these projects might be further along, if I had devoted more time to them," Studer said. "In the past year, we've seen the city lose a $20-million investment in the maritime park with the Center for Entrepreneurship and our proposed conference center and $10 million investment at Hawkshaw. Not many cities can afford to lose $30-million in investments."
Studer said he was concerned about the future of his $50-million apartment complex that has been proposed for the old PNJ site on Romana Street. As I reported earlier this month, the project can't be done without incentives to help build the necessary parking garage (See Downtown Housing: Reality or Pipedream).
He and his Studer Properties CEO Andrew Rothfeder have had encouraging conversations with the state lawmakers about the EDATE extension, according to Studer. They have also had several meetings with Mayor Ashton Hayward and his staff who are working on a few options should the EDATE extension fall through.
"I think we will be able to work something out," said Studer, "but until then, we suspended work on the project."
Studer said leaving Studer Group,which he founded 17 years ago, is emotional. He will particularly miss the employees, many of which live in the Pensacola area. His departure from Studer Group will be gradual over the next 60-90 days.
"I've been lucky to work with some of the most dedicated people in the world," he said. "Debbie will do a great job, and Rishy and I aren't going any place."
Later in the day, BG Porter sent out an email to all the Studer Group employees on Studer's resignation:
Team –

Since founding Studer Group, Quint embarked on creating a company that would make a difference in healthcare, and later on, education. He also envisioned an organization to maximize human potential far beyond what one person could accomplish. You may have heard him say at a Leadership Development Institute (LDI) or at training, "The goal of an organization is to build a culture that outlasts every leader in the room."

Through careful development of our team, creation of intellectual capital and processes, and through investment partnerships into SG, first with JMI Equity and now with Huron Consulting Group, we have planned for, and constructed a 'built to last' culture. Now is the time when Quint plans to step away from SG and for the company to carry on independently.

Let me share some background, why this is the right time for Quint, and what it means for SG going forward. In line with the organizational adjustments announced last week, we have great opportunity, and thus responsibility, to fulfill the Mission and Vision of SG. In this manner we not only live our Values but also we become the keepers of the flame that Quint started in healthcare and education.

From the time when SG began operations in 2000, Quint sought to build a firm beyond himself. The inclusion of "Group" in the name of the company was a first step. Another was the success of St. Alexius, one of the earliest partners of SG – and the first partnership intentionally designed to not include Quint. Led by Don Dean, the St. Alexius experience proved that the concepts and expertise of SG could scale. Quint knew he could touch more organizations, and thus more lives if done so through scaling SG. So the team began to build, from those key early fire starters to the many we employ today. I was fortunate to join Quint in 2001, as we initiated a strategic plan and a succession plan for Quint. In fact, by 2006, we had a name for that plan: "Becoming Less Quint-centric."

How did we go about constructing a built to last organization? We of course started with Mission and Vision. To support our Mission to make healthcare better, we determined we would need to grow SG. We diversified management, selecting Debbie Ritchie to help steward the culture and operations of our organization. We continuously sought to select and develop top quality coaches and other talent. We added bench strength of national presenters.

We developed Fire Starter Publishing to nurture prolific authors and contributors for industry thought leadership. To pursue our Vision of maximizing human potential, we built research capabilities; multiple forums for conferences and speaking; marketing expertise; and training for our team, especially coach experts to harvest intellectual capital, create SG concepts and to lead relationships. As part of our Baldrige journey, we created a detailed succession plan, which provided a roadmap for the advancement of our management structure in support of our long term strategy.

All the above were done with leadership direction from Quint and the desire for a company to make a lasting difference, with a culture that would outlast all of us. Through the investment partnerships with JMI Equity, and now as a part of Huron Consulting Group, we introduced new intellectual capital, invested financial resources in systems and infrastructure, and created avenues to bring value to healthcare and education as well as growth opportunities for our team. Examples include software accelerators, SG Education, Huron Healthcare (HH) offerings to SG partners and cross-populating staff between HH and SG. These investment decisions were key to ensuring a platform for long term impact and development potential for our team, the legacy that Quint has always sought.

That brings us to now, and Quint's decision that this is the time to step away from SG. As we have been building our enterprise, Quint has reduced his presence on national stages so that we could fill-out our national speakers and conferences teams, which are flourishing. And, as you know, family matters have required much of Quint over the past 2 years. Through the losses of his sister and father, and the injury and healing process of a grandson, he has focused on family and worked hard to meet those demands and SG demands. With his mother now relocated to Pensacola, Quint is needed at home more than ever. This coincides with SG entering the next phase of our company leadership structure and the advancing integration with Huron Healthcare. So, the time is right to step away completely, and he will do so at the end of the 1st quarter, March 31st.

What does this mean for SG and for Quint going forward? Between now and the end of 1Q, Quint will fulfill all scheduled partner events and our Orlando conference, so there is no disruption to partners and customers. We will be careful to limit more on the plate in respect of Quint's time. He presently is taping materials for our ongoing use, and he will be faculty in upcoming training events, including Quint Day and the Studer Group Institute (SGI) next week. Of course, Quint is always a Fire Starter and will carry the banner of SG and Huron. As of April 1st, he will be available on a contractor basis for selected partner events. Many of us have heard Quint say, "The expert craftsman leaves no mark" and that is his wish for SG.

This adjustment marks an opportunity for all of us. You may have heard me say, "This is our time." Indeed it truly is – our time to continue to scale SG, based on the partnership with Huron, our talented team, the systems, intellectual capital and processes in place, and most importantly through the culture built over many years. Irrespective of roles in SG, every person shares this opportunity, and thus responsibility. We honor Quint and will nurture the flame, in healthcare and education, through continuing pursuit of our Mission, Vision and Values.

With this announcement, I am privileged personally to thank Quint for the difference he has made and for how he has touched each of our lives. I know you will want to join me in expressing your gratitude to him and wishing him well. Quint certainly will remain visible as he continues to be a difference maker in the Pensacola community, professional baseball and other areas of interest to him.
Studer followed this email with his own personal message to the employees, which summed up much of what we discussed at breakfast:
From Quint:

I felt that this was the right time to step away from Studer Group.

It has been a wonderful 17 years working with the best team in the world. Through their dedication and commitment, we have had a tremendous impact on the quality of healthcare by making it better for employees to work, physicians to practice medicine and patients to receive care. The recent work to improve public education is thrilling.

We have grown the company to over 250 employees, many of which live in the Pensacola area. We now work with hospitals and healthcare systems around the country, as well as Australia and Canada; and provide coaching tools to schools and universities through Studer Education.

With Debbie Ritchie as the president, I'm confident about the future of Studer Group and its place in this community. The Pensacola area provides a wealth of passionate and talented people which helped build Studer Group.

Rishy and I are excited about our future, too. Rishy left Studer Group several years ago to focus on revitalizing Belmont-Devilliers and the northern corners of Palafox and Main. Five Sisters Blues Café has become a catalyst for redevelopment in that historic neighborhood. SoGo has become one of the most active areas inside Pensacola for locally-owned retail businesses. And of course Rishy and I, along with Bubba Watson, continue to stay committed to the Blue Wahoos and Wahoos life.

The Studer Community Institute completed its busiest year since its inception, and I plan to devote more time with Randy Hammer and his team to keep the conversation alive about how we improve learning for children and growing jobs.

The Studer Properties with Andrew Rothfeder at the helm has several projects on the drawing board that I would like to get off the ground, such as the downtown apartments and a new office building.

And we remain committed to launching the UWF Center for Entrepreneurship as well as the Greater Pensacola Entrepreneur Fund. We've already begun planning our second EntreCon.

We have our work in Janesville, Wisconsin that also needs our focus as we build Bodacious North and some other projects we're looking into there.

Leaving Studer Group is emotional for me. I've loved working with a team of true "Firestarters," and I'm very grateful of the contribution Studer Group employees have made to improving health care around the world.

But the timing was right and Rishy and I are excited to what doors will open up us as we journey forward.
Studer's announcement has been reported by other media. See Becker's Hospital Review.