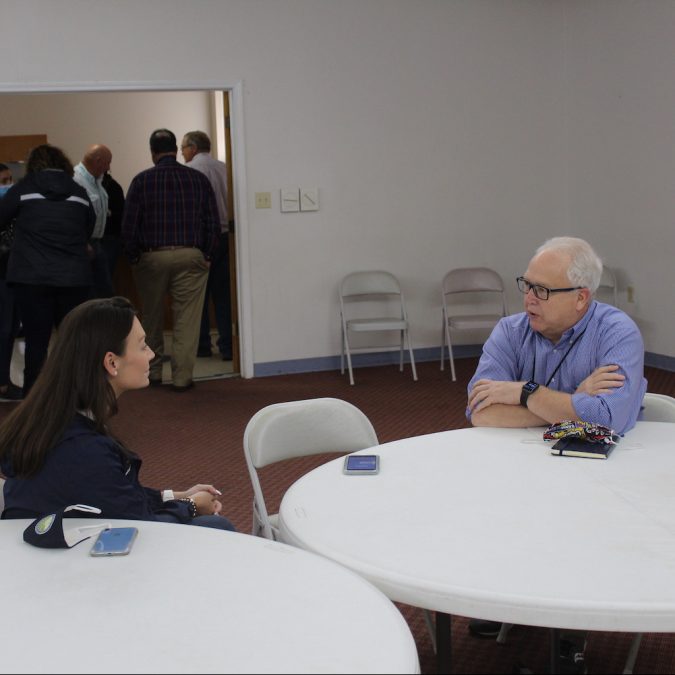 Florida Commissioner of Agriculture Nikki Fried on Sunday visited Escambia County to survey the hurricane damage She met with County Commissioner Lumon May at the distribution site set up at the Brownsville Community Center and then toured the farms in the north end of the county.
Inweekly caught up with Commissioner Fried after her roundtable with local farmers at the Walnut Hill Community Center. After discussing the area's recovery from Hurricane Sally, she talked about the challenges of being the lone Democrat on the Florida Cabinet, especially when Republican Gov. DeSantis has been not held monthly in-person cabinet meetings.
"We were elected to represent the entire state to work together," said Commissioner Fried. "We're all individual constitutional officers and in our constitution says that we're supposed to govern together."
She continued, "And so it's been very frustrating, especially when all we're trying to do is get our state through COVID, make sure that people are safe, that we've got the right supplies for our essential workforce that are in our hospitals, on our farms, in our grocery stores, and our teachers now. Unfortunately we have not had a united front on how we're getting our state through both the healthcare crisis and the economic spiral that's happened since."
Adding to her frustration is Gov. DeSantis' control of the agenda and unwillingness to allow her to add items to it. She said, "We've had a list of issues that we wanted to be addressed. Even the one that was done telephonically, none of the issues that I had asked to be placed on the agenda were one it."
She continued, "A lot of it is just getting updates on where we are on revenue, where we are with our school nutrition program and to inform everybody where we are just overall COVID response. And unfortunately none of that made it onto Tuesday, Sept. 22 agenda."
The immediate challenge facing Florida is getting COVID under control. She said, "Until then, tourism doesn't bounce back. Not only do people not have expendable cash from across the country to come here to travel, but even our own citizens are not willing to go to all the restaurants and go to local establishments, to movie theaters, until we have this health crisis under control."
When she narrowly defeated Republican lawmaker Matt Caldwell for the Agriculture Commission post in 2018, Fried became the first Democrat to win the since 1998 and the first Democrat elected to a statewide executive position in Florida since Alex Sink served as Chief Financial Officer from 2007 to 2011. She has been mentioned in several circles as the Democrats' best chance of defeating Gov. DeSantis in two years. When asked if she was considering running for governor in 2022, Fried tried to dodge the question.
"My laundry list of things that I oversee is enormous between COVID response to our school nutrition program to agriculture, rebounding, getting Joe Biden and Kamala Harris into that White House," she said. "Those are my focal points, and everything else is on the back burner until we get through this."
She currently is focused making sure farmers have guest workers coming back into our state.
"We're working around the clock with seven counties here in the state that are really predominantly with these aggregators and making sure that we've got rapid testing, making sure that we've got housing for them if in fact we have an outbreak," Fried said. "And making sure we have additional transportation to and from the communities and the farms. That is taking up a tremendous amount of our bandwidth."
When asked what was her message for other women thinking about getting into politics, she said, "Do it, that's the message that I always say to women. We sometimes have to work a little harder, but we've got the internal strengths to do so.
She added, "Being a public servant and serving, whether it's your local school board, to your county and your city to your state, to your country is one of the most gratifying experiences anybody could ever have."
Fried said women are come to the table wanting to be problem solvers.
"We put our egos aside here and really just want to come up with a resolution to make people's lives better," she said. " I don't care what party you are in, we need more women at the table to really advance a lot of these issues that are the forefront of so many Americans across the country."