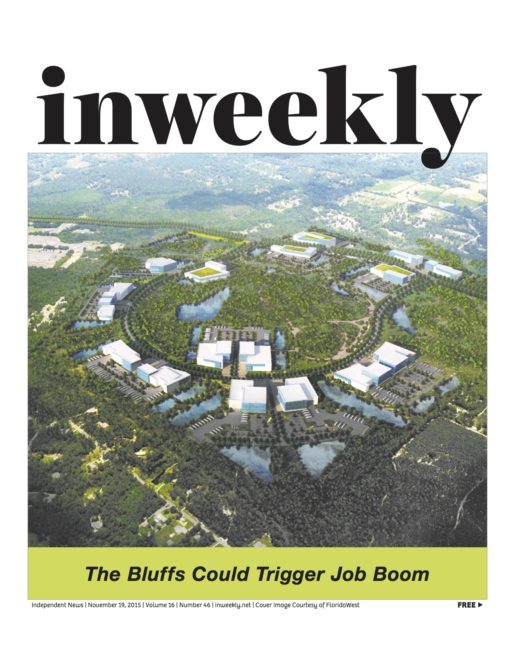 By Duwayne Escobedo
INWEEKLY
Economic officials gathered Tuesday morning to announce: There are 1,758 shovel-ready acres at The Bluffs Northwest Florida Industrial Campus ready for manufacturing companies to develop.
For four years, the Emerald Coast Utilities Authority, Ascend Performance Materials, Gulf Power and the University of West Florida, Pensacola-Escambia County Development Commission, FloridaWest Economic Alliance and the Florida Department of Economic Opportunity have teamed to create a privately owned corridor for manufacturers to locate.
Developers project that as many as 60 manufacturing and industrial tenants could create as many as 15,000 jobs for the Northwest Florida community. The full development of the project could result in $1.1 billion in additional Gross State Product for Florida's economy, Florida TaxWatch reported.
The last piece of the puzzle was $3.1 million in funding approved in the budget by Florida Gov. Rick Scott to build the proposed Industrial Boulevard to cross a flood plain and connect the north and south sections of The Bluffs campus. It will give the economic development site two ways for vehicles to enter and exit the scenic area.
FloridaWest CEO Scott Luth said it hopes to attract companies that are community and environmentally friendly. The high-skilled, high-paying jobs created could increase the region's median wage from $62,000 a year, he said.
"We want to continue to raise wages in the community," Luth said. "We want to create job opportunities for our citizens and for our youth. We want them to have opportunities for employment they may or may not have."
Local officials said the location of The Bluffs has several advantages: 1) Rail, barge, roadways and airport rail access. 2) All the needed utility infrastructure, including electric transmission service, natural gas, reclaimed ECUA water, steam production, and wastewater treatment ready for manufacturing and industrial customers. 3) The scenic wooded property is naturally an upland that is 120-feet above sea level.
Plus, the area already has the makings of an industrial cluster with Ascend, International Paper, Chemco Services, nexAir, Exxon Mobil, Cerex and others.
Florida TaxWatch President and CEO Dominic Calabro and his team analyzed the potential impact of The Bluffs campus.
"Today's global economy is becoming increasingly high-tech and in order for Florida to continue to be competitive, it must invest in high-tech manufacturing hubs," Calabro said. "Projects like The Bluffs provide Floridians with high-wage jobs and will significantly benefit the state's economy. Continuous investments by businesses and the state will go a long way in securing long-term growth of the high-tech manufacturing sector and make Florida the destination for those in the industry."
The masterplan done by Baskerville Donovan breaks the campus into four sections: Cyprus Bluff (505 acres); Live Oak Bluff (415 acres); Longleaf Bluff (580 acres); and Magnolia Bluff (258 acres). Developable parcels range from 10.2 acres to 55.4 acres.
Freddy Donovan Jr. of Baskerville Donovan lauded the natural formation of scenic hills that he called "unique topography" on the Gulf Coast. He also said The Bluffs campus allows companies to share stormwater ponds and other infrastructure that protects the natural beauty of the area.
"At The Bluffs you can really integrate industrial sites and nature," Donovan said. "The University of West Florida is a great example of a facility integrated into nature. We want to do the same thing at The Bluffs. It's a beautiful area."