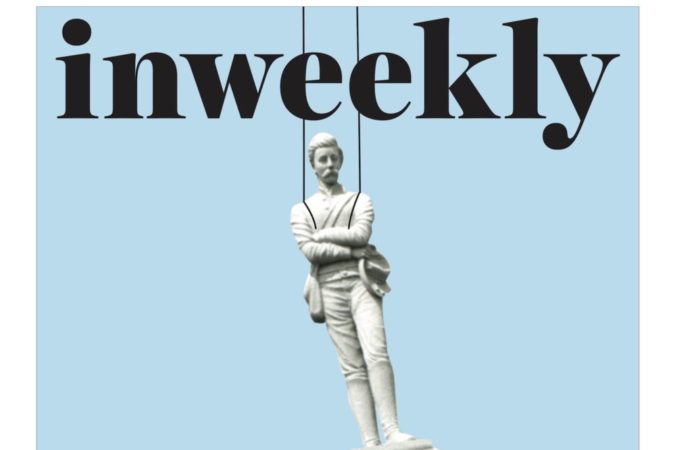 by Jeremy Morrison, Inweekly
As Pensacola Mayor Grover Robinson spoke to protesters at Graffiti Bridge on Saturday, an inevitable question was shouted from the crowd: "What about the statue in Lee Square?!"
As protesters nationwide bring attention to police violence against African-American people following the killing of George Floyd by a Minneapolis officer, the question arises, again, of how best to address the countless monuments — many of them in the Southeast — that pay tribute to the Confederacy. Activists, such as those associated with the Black Lives Matter movement, have long contended they glorify a racist past and should come down.
A number of such monuments were removed following a 2016 gathering of white supremacists in Charlottesville, during which an individual protesting the event was run over by an attendee's vehicle and killed. And now more local governments are choosing to remove, usually under cover of night, more monuments. Nearby, in Mobile, Ala., a statue of Confederate Admiral Raphael Semmes was recently removed.
Although Mayor Robinson did not address the issue during his appearance at Saturday's protest, he did talk about the issue during an interview with Inweekly later in the afternoon.
"If the confederate monument comes down, does racism stop? No," the mayor said.
While Robinson said that he "understand[s] the challenges of what the monument means," "would love to find a way to deal with our symbols and do it responsibly," and was "going to give it some thought," he didn't appear inclined to remove the statue from downtown.
"We're going to try to figure out what we need to do up there on the top of the hill on Palafox," Mayor Robinson said. "I do believe the statue as it stands currently, on its own, is hindering us."
In 2016, then-mayor Ashton Hayward indicated during a radio interview that he wanted to see the monument come down. He later walked the comments back, clarifying that it wasn't his unilateral move to make.
Four years later, the Confederate monument sill overlooks downtown Pensacola from its perch atop the obelisk in Lee Square.