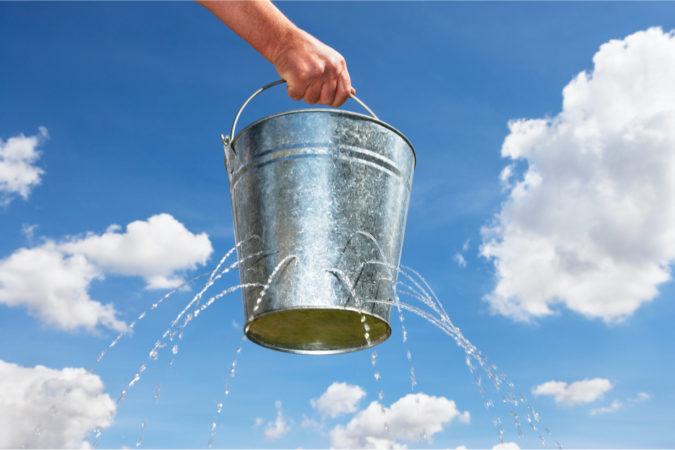 by Jeremy Morrison, Inweekly
The mystery of who released shade meeting transcripts, if there was much of one, has been solved. It was Doug Underhill.
"There's nothing to investigate," Escambia County Commissioner Underhill said last week, discussing his rationale for providing members of the public with transcripts from closed-door shade meetings the commissioners held to discuss the Innerarity Island sewer system.
He said, "It's a simple matter of releasing a public record and I stand by the idea that it's a public record and not a confidential record."
Recently, commissioners dove into a discussion about the specifics surrounding Escambia's inheritance of Innerarity's private water and wastewater system, as well as associated upgrades and eventual handoff to the Emerald Coast Utilities Authority. In this context, Underhill released the shade meeting transcripts, which the county maintains are exempt from public records requests.
Note: In early May, Inweekly requested the transcripts of the meeting. County Attorney Alison Rogers told the newspaper that the records were still confidential because the lawsuit was still open. On May 13, Rogers sent Inweekly several public records concerning the Innerarity Island sewer system that had been redacted.
Last week, Commissioner Jeff Bergosh called for an ethics investigation into who leaked the shade meeting document.
"I can't leak a public record, it's called 'releasing' it," Underhill said in an interview with Inweekly a couple of days after Bergosh called for the investigation.
Citing legal precedents in other Florida counties, the commissioner defended his decision to release the transcript.
"People don't understand. I think through these things and research them long before I do them."– Doug Underhill
"It's so funny," Underhill said. "People don't understand. I think through these things and research them long before I do them."
The commissioner also questioned County Attorney Alison Rogers' rationale for keeping the shade meeting transcripts confidential, contending that an ongoing court case formalizing the Innerarity arrangement between the county and ECUA is being left officially open just to keep the meetings off the books.
"If there is a reason other than just keeping those shade meetings private and secret, then you're going to have to explain that," Underhill said, shrugging off Bergosh's now-moot investigation. "This is one of those typical Godzilla-Bergosh things, you know, he fired this thing off. He didn't do his research.
He continued, "He should have read all of those shade meeting transcripts before he started talking publicly about it—well, he's created a snot storm here and I have no idea what he's going to try to do next."
Underhill said that he had attempted to clarify his role as the source of the released shade meeting transcripts during the meeting.
"I had my light on in that meeting and was trying to tell Commissioner Barry that you don't need to have an investigation, I'm the one who did it," the commissioner said. "But he didn't call on me. I don't know if he just didn't see me or if there was a reason for that."
"I wouldn't have an issue with it being public, but it should be a discussion among our board or it should come as a decision from the county attorney." –Steven Barry
Commission chair Steven Barry spoke with Inweekly following the board's discussion on this matter, explaining that he objected to how these transcripts had been released but not necessarily to the concept of releasing the records.
"I wouldn't have any issues with that, I don't think any of us would," Chairman Barry said. "I mean, we know in those shade meetings minutes are being taken, transcripts are being taken, so we all know that eventually all that stuff comes out."
He continued, "I wouldn't have an issue with it being public, but it should be a discussion among our board or it should come as a decision from the county attorney. It shouldn't be a decision made by one board member to just distribute something."