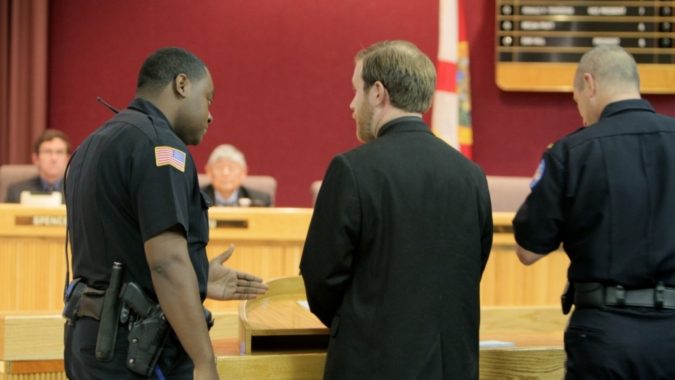 The first two months of any position can be rocky as one gets acclimated to the position. That definitely holds true for the position of Pensacola City Council president.
In 2011, Maren Deweese had to create the position and define its power and authority. The council has had five council presidents since she rolled off:
Sam Hall 2011-12
P.C. Wu 2012-13
Jewel Cannada Wynn 2013-14
Andy Terhaar 2014-15
Charles Bare 2015-16
Inweekly picked the three presidents that had roughest starts as council president:
#3 Council President Jewel Cannada-Wynn and Airport Food Concessions. Jan 2014
By a 4-4 vote, Pensacola City Council rejected Mayor Ashton Hayward's recommendation to award airport concessions contract to OHM Concessions Group. After four months of delays and intense lobbying, the mayor's staff failed to change the four votes that were against his choice back in September.
The mayor hired an attorney that gave him a legal opinion that said he could award the contract without council approval. Eighteen months later, Chick-fil-A opened at the airport, and concessions revenue have exceeded the budget.
#2 Council President P.C. Wu and Reynold's doomed special call meeting. Jan 2013
Mayor Ashton Hayward wanted to appoint David Penzone to the RESTORE Advisory committee, while several council members preferred Bentina Terry. The council decided—on a 5-3 vote—to schedule a special meeting to continue the discussion the following week. Reynolds countered that the mayor would be calling the special meeting for 12 hours after Thursday meeting—for 8 a.m. the next morning.
The bullying didn't work. The next morning the council voted 5-2 to adjourn without discussing the appointment, over Wu's objection. The next week Mayor Hayward appointed Terry to the committee and the council approved it. She has served as the advisory's chair for the past three years.
#1 Council President Sam Hall has Nathan Monk removed from council meeting. Dec. 2011
Monk tried to speak out against proposed anti-homeless ordinances. Hall ruled him out of order before his three minutes were finished. Monk refused to budge until his allotted time was up, after which he was escorted from council chambers by the officers. The Youtube video of the incident had over 200,000 views.
Hall survived a call for him to be removed as council president but lost his re-election bid in 2012.
Four years later, the city council repealed most of the anti-homeless ordinances.