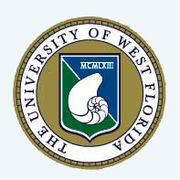 The University of West Florida Florida Public Archaeology Network recently received the 2015 Daniel G. Roberts Award for Excellence in Public Historical Archaeology by the Society for Historical Archaeology. The award was presented at the 48th Annual Conference on Historical and Underwater Archaeology in Seattle, Washington on Jan. 9.
This award recognizes FPAN in their 10th anniversary year for a decade of innovation and collaborative programs and projects that reach a broad and diverse audience, in the state and beyond, and promote and facilitate the conversation, stewardship, study and public understanding of all of Florida's rich archaeological heritage.
"This award from the Society for Historical Archaeology is extremely meaningful," said Dr. William B. Lees, FPAN executive director. "It is the highest award for public archaeology given by SHA and we are very happy that FPAN's work has been recognized. Personally, we are very proud of the work of all FPAN staff. FPAN has the best public archaeologists in the business, professionals who are engaged, enthusiastic and energetic and who work every day to educate Florida's citizens and visitors about our state's past."
Established in 2011 and first presented in 2012, the Daniel G. Roberts Award for Excellence in Public Historical Archaeology was created and endowed by the staff of John Milner Associates, Inc., to recognize and honor their colleague Daniel G. Roberts, one of the pioneers in public historical archaeology, particularly within a heritage management framework. The award recognizes outstanding accomplishments in public archaeology by individuals, educational institutions, for-profit or non-profit firms or organizations, museums, government agencies, private sponsors or projects.
Formed in 1967, the Society for Historical Archaeology is the largest scholarly group concerned with the archaeology of the modern world (A.D. 1400-present). The main focus of the society is the era since the beginning of European exploration. SHA promotes scholarly research and the dissemination of knowledge concerning historical archaeology. The society is specifically concerned with the identification, excavation, interpretation and conservation of sites and materials on land and underwater. Geographically the society emphasizes the New World, but also includes European exploration and settlement in Africa, Asia and Oceania.