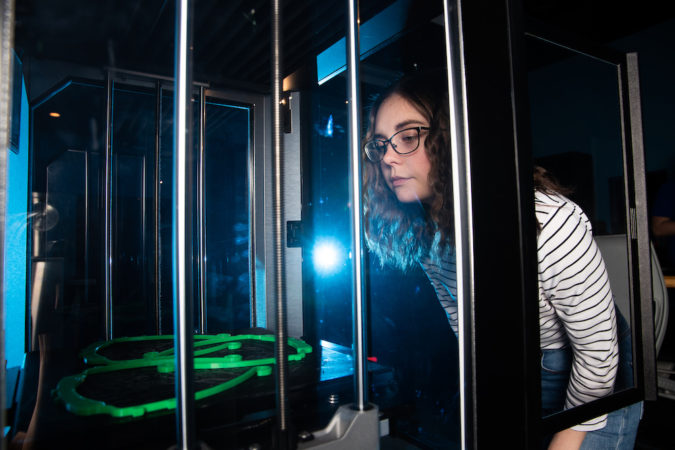 By Jeremy Morrison
In an effort to address the shortage of frontline supplies for healthcare workers as they tend to the current coronavirus pandemic, the University of West Florida will begin producing full-face shields. The 3D-printed kits will be produced by UWF's Sea3D Additive Manufacturing Laboratory in downtown Pensacola, and distributed free to in the local community.
"I think equipment like this and the masks that are being produced by manufacturing partners around the community, will really go a long way in helping us to at least mitigate the situation at hand," said Nicole Gislason, interim assistant vice president of the UWF Haas Center.
The face shields being produced at the Sea3D lab consists of a flexible plastic visor and a snap-on Mylar shield. The units are designed to be low-cost, washable and reusable.
"This type of device provides a little bit of protection, a splash guard if you will, but it's also designed to work in conjunction with other approved face masks or respirators," Gislason explained.
UWF intends to print 60 face-shield kits per day, or approximately 1,440 shields per month. The university estimates that each unit carries a production cost of $6.50 in materials and $4 in labor.
Area healthcare providers will be able to request the face shield kits via an online form. Priority will be given to non-profit organizations serving at-risk communities, such as the elderly or homeless. After completing the online process, healthcare organizations can pick up the masks each weekday at 4 p.m. at the Museum of Commerce downtown.
In producing these face shields, several UWF departments are working together, including the nursing, engineering, art and business departments. The university is also partnering with a few local organizations, including area hospitals, and the Escambia County Division of Emergency Management, and businesses, like Jupiter Bach, GE Renewable Energy and Alto Products Corps. Jupiter Bach is manufacturing the actual shields that snap into place on the plastic printed visors; the company plans to make more shields than visors, so that they can be replaced upon becoming to scuffed.
"Each day a new manufacturing company or a new maker reaches out to us and says, 'Hey, how can we help?' And there is nothing more heartening than to see community parters come together in a time of need," Gislason said.
The design used to make these face shields is a modified variation on an existing design used worldwide. UWF tweaked it for use specifically in the healthcare and food service industries.
Gislason said that while the masks produced by UWF will be going to the local community, the university is providing digital design plans to anyone who wishes to manufacture their own masks.
While these 3D-printed face-shield kits will offer some amount of protection against the highly contagious coronavirus, they are not intended to provide a medical-level barrier. The shields are rather meant to be used alongside other protective gear.
"This is not a substitution for PPE that's authorized by the FDA," Gislason said. "We recommend this as an emergency device to be used as equipment of last resort. But it will offer you some protection, a barrier, in conjunction with the other devices you may be wearing."