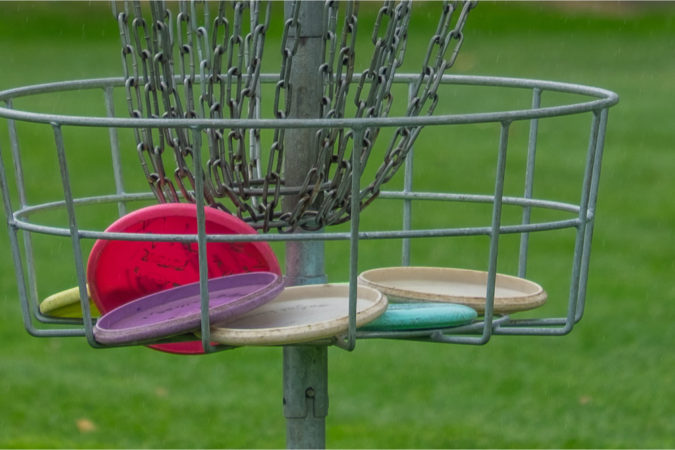 Best Pivot of the Week – Bubba Watson's Diamond Disc Golf Challenge
The Pensacola Blue Wahoos and team co-owner Bubba Watson have partnered to bring a new sport to Blue Wahoos Stadium! Starting Friday, May 15, Bubba Watson's Diamond Disc Golf Challenge will open at Blue Wahoos Stadium, giving fans a 9-hole disc golf experience on the field at the ballpark, designed by the two-time Masters Tournament champ.
"We have done a lot of cool things at Blue Wahoos Stadium before, but creating a disc golf course may be one of our most creative ideas," Watson, a two-time Masters Tournament champ, said. "I don't think any other baseball team has ever done this. For anyone who has not played disc golf, it's a great way to spend some time outdoors and an easy game to learn, so anyone can come out and play. I've been playing it with my friends for years when I'm not on the golf course or at a Blue Wahoos game!"
The course covers the entirety of the playing surface at Blue Wahoos Stadium and is open to the public from 12:00 PM-8:00 PM on Fridays, Saturdays, and Sundays. Admission is $5 per player per round. Children ages 6-12, seniors, military members, and first responders will receive a $1 admission discount. Children 5 and under receive free admission with a paid adult.
To ensure the safety of participants and in adherence with COVID-19 guidelines, new groups will be allowed to begin playing the course every fifteen minutes. Players are encouraged to bring their own discs or to purchase a three-disk starter pack from the Blue Wahoos for $25. Disc rental is not available in accordance with safety and sanitation recommendations.
Players should enter through the main gates at Blue Wahoos Stadium and visit the Bait & Tackle Store behind home plate to register. A scorecard and course map will be provided to each player.
---
Phase 2 Hint
Governor Ron DeSantis yesterday gave a hint he is close to moving into Phase 2 of his recovery plan. FDOH has been issuing two State of Florida COVID-19 updates daily.  The customary opening of each update has been: "In an effort to keep Florida residents and visitors safe and aware regarding the status of the virus, the Florida Department of Health will issue this update every day, seven days per week."
Last night, the update stated, "… the Florida Department of Health will continue to issue this update every day through Phase I of Florida's reopening plan. Once the state moves into Phase 2, DOH will provide this update once per week."
At his Monday presser, DeSantis talked about how positive cases have dropped in the Phase 1 counties –all Florida counties, except Dade, Palm Beach and Broward.
"Incidentally, the percent positive rate for just Phase One counties for the reports today, 1.43% of the new tests came back positive," said the governor. "That means 98.6 or 98.57 are coming back negative in Phase One counties. And so that's a good sign. We want to continue to monitor that. And particularly the hospitalizations and the ventilator and the percent positive, those are really, really important. We've been in good shape, even including Miami, but obviously when you look at the 64 counties, it's even, I think, more significant."
---
Choir Practice – Not a Safe Haven
As Gov. Ron DeSantis weighs when to move ahead with lifting additional coronavirus restrictions, a report issued Tuesday by the federal Centers for Disease Control and Prevention highlighted how contagious the virus can be in group settings.
The CDC studied an outbreak that stemmed from a choir practice in Washington state. Adults attended one or two three-hour sessions in early March in Skagit County. While the report said no one reported having physical contact, choir members sat near each other, shared snacks and sang during the session. A total of 53 coronavirus cases were identified, with three people becoming hospitalized and two eventually dying.
The CDC report said the incident is a reminder of why certain activities need to be discouraged.
"This underscores the importance of physical distancing, including maintaining at least 6 feet between persons, avoiding group gatherings and crowded places, and wearing cloth face coverings in public settings where other social distancing measures are difficult to maintain during this pandemic," the report said.
Florida last week started the first phase of reopening its economy, a move that allowed many retailers and restaurants to reopen after being closed for the previous month. Barber shops and hair salons were allowed to reopen on Monday. Florida has not mandated that people wear face coverings as part of the reopening.
source: The News Service of Florida
---
Next Hot Spot: Facilities for Developmental & intellectual Disabilities
By Christine Sexton, The News Service of Florida
TALLAHASSEE — The state Department of Health is testing 244 residents and 800 staff members of a Northwest Florida facility for people with developmental and intellectual disabilities after two residents tested positive for COVID-19, Gov. Ron DeSantis' administration said Tuesday.
Two male residents of Sunland Center tested positive Monday, with the first positive result coming when Jackson Hospital in Marianna administered a test on a resident who was being treated for a separate issue, the DeSantis administration told The News Service of Florida. The resident was asymptomatic and was being tested before he could be transferred back to Sunland, under requirements of a recently issued state emergency rule.
The second resident who had been transferred to the hospital also tested positive for COVID-19. The men lived in the same house on the 500-acre Sunland Center campus in Jackson County.
Both residents are in the hospital and will remain there until they have two negative COVID-19 tests, according to Melanie Etters, a spokeswoman for the state Agency for Persons with Disabilities, which has oversight of Sunland Center.
"APD (the agency) is taking every possible step to prevent the spread of this virus and to protect our residents. APD is requiring all employees and residents to wear face masks as an additional precaution. APD began screening visitors at the beginning of this outbreak, and currently (does) not allow any visitors at the facilities," Etters said in a prepared statement to the News Service. "Required vendors, regulatory officials, and first responders must follow screening procedures to gain access. Everyone who wishes to enter the facility, including employees, must have their temperature taken prior to entering."
Sunland Center provides care for Medicaid-eligible people with developmental and intellectual disabilities.
Valerie Breen, executive director of the Florida Developmental Disabilities Council, said her organization has been concerned about precautions to protect people with disabilities from being exposed to the deadly respiratory disease.
"The Florida Developmental Disabilities Council has remained very concerned about the availability and implementation of PPE (personal protective equipment) and strict protocols specific to our population," Breen said in a statement to the News Service. "People living with I/DD (intellectual and developmental disabilities) in our state institutions should never be an afterthought in the fight to restrain the spread of COVID among some of our most vulnerable and those who care for them. We are pleased to know that now everyone is being identified and tested at Sunland."
The Department of Health visited Sunland Center on May 1 and tested some staff members and residents who volunteered to be tested. No one tested positive at the time, Etters said.
But with the two men found to be positive for the disease, the testing is no longer optional, administration officials said. The state should know the results of all testing in the next 10 days.