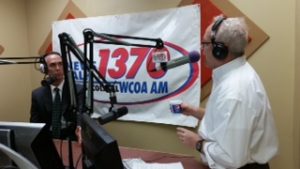 We launched Pensacola Speaks yesterday. The one-hour format will take some adjusting on my part, but the guests were solid.
What did I learn?
1. Escambia County Commissioner Lumon May said the gambling vs. pot issue is a discussion being held at the state level between Gov. Rick Scott and the Poarch Creek Indians. The Board of County Commissioners has little say in the matter.
2. His sister, LaRuby May, will be in Pensacola March 2 for a series of campaign fundraisers to help her campaign for the D.C. city council. She is running for the seat held by the late Marion Barry.
3. Supervisor of Elections David Stafford is almost as big fan of House of Cards as I am. He said that Tom Delay and John Boehner reminded him the most of Francis Underwood. However, he said most behind-the-scenes negotiating was done with the "carrot" rather than the "stick." Good leaders figured out how many votes they needed and what was important to those Congressmen.
4. Stafford also shared the story of how Speaker of the House Newt Gingrich tried to punish Joe Scarborough and the band of young representatives that were bucking the party. They lined them up in front of the GOP caucus for a scolding. Steve Sargent, a former Seahawks receiver and a member of the rebels, said that he had spent his life running across the middle of football field knowing the the other team wanted to crush him and he was not going to be intimidated by the Speaker and his cronies.
5. Mike Ensley talked about the huge success of Pensacon and gave listeners a checklist of what they can expect.
We go at it again this afternoon on News Talk 1370AM from 5-6 p.m.