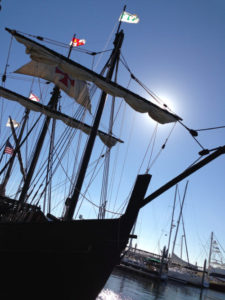 Columbus has landed. Or, at least replicas of his 'Pinta' and 'Nina,' are docked at the end of Palafox Place.
The wooden ships arrived around noon today and open to the public tomorrow. They will remain docked in Pensacola until departing Jan. 2.
The 'Nina' was built by hand, without the use of power tools and is considered to be an historically accurate version of Columbus' ship. The 'Pinta' was built recently in Brazil and is larger than the original.
Walk-aboard, self-guided tours of the ships cost $8 for adults, $7 for seniors, $6 for students aged five to 16 and are free for children 4 and younger. The ships are open every day of their visit from 9 a.m. to 5 p.m.
Guided tours are also available for school classes or other organizations. For further info, call 1(787)672-2152 or visit www.thenina.com or email columfnd@surfbvi.com.