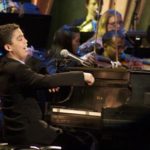 "Ethan Bortnick: Live in Concert" is coming to Pensacola next Tuesday, October 28, performing with special guests Damian McGinty of "Glee" and Celtic Thunder and members of the Pensacola Children's Chorus at the WSRE Jean & Paul Amos Performance Studio on the Pensacola State College campus.
Doors open at 6 p.m., and the show begins at 7 p.m. Tickets are $50 and can be purchased at wsre.org. Proceeds benefit the mission of WSRE, PBS for the Gulf Coast.
At just 13 years old, Bortnick is an internationally renowned composer, pianist, singer and entertainer. His passion and extraordinary talent for music became apparent when, at age 3, he asked his parents for piano lessons and discovered his unique ability to hear a song once and play it back note for note. A Hollywood, Fla. native, Bortnick began composing music at age 5. He made history in 2011 as the youngest entertainer to headline a show in Las Vegas, and he was certified by Guinness World Records as "The World's Youngest Solo Musician to Headline His Own Tour" in 2012 at age 9. Also a young humanitarian, Bortnick has helped raise more than $30 million for nonprofits around the world.
Proceeds from his Pensacola show will help support the public television programming and educational services provided by WSRE. "WSRE is thrilled to host Ethan in concert," said Janie Stewart, WSRE development director. "He is an incredible talent, and he appeals to the whole family. Ethan has performed all over the world, so it is a real treat for us to bring his show to Pensacola and to have him perform in our Amos Performance Studio."
WSRE viewers may have already seen Ethan in one of his public television specials, most recently "Ethan Bortnick Live in Concert: The Power of Music," which began airing on PBS stations in December 2013.