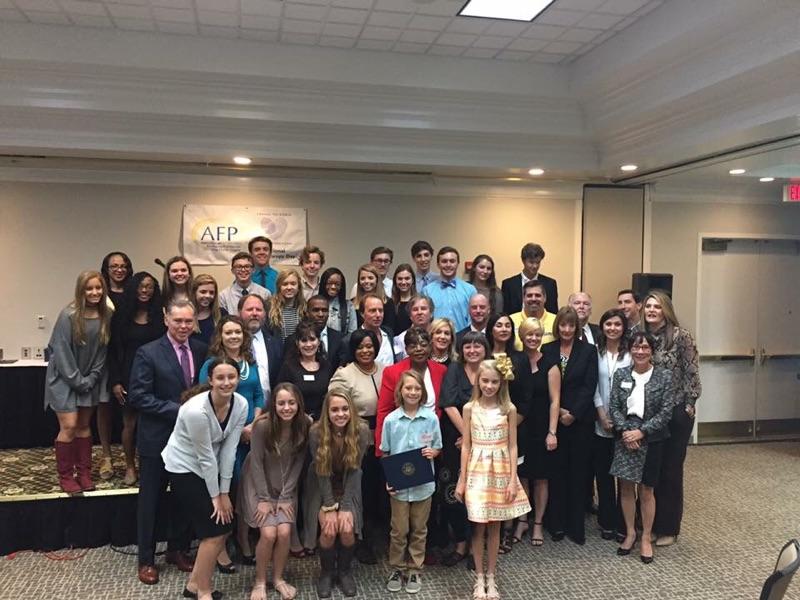 The Association of Fundraising Professionals West Florida Chapter announced the winners of the 2016 National Philanthropy Day during its annual awards luncheon held at the Pensacola Grand Hotel.
•Laverne Baker was named Outstanding Fundraising Professional, an award designed for an outstanding individual fundraising professional who practices his or her profession in an exempla- ry manner.
•Sue Straughn was named Outstanding Volunteer Fundraiser, presented to an individual with a proven track record of ongoing, signi cant commitment to fundraising for one or more organizations.
•Washington High School Student Government Association was named Outstand-
ing Youth in Philanthropy, which recognizes services by individuals 10 to 20 years old who have demonstrated outstanding results to one or more organizations through their commitment to time, talent and demonstration of leadership in philanthropy.
•Cat Country 98.7 was named Philanthropic Business of the Year, an award that recognizes a business for its philanthropic impact in the community through direct and indirect support of charitable projects.
•Epps Christian Center was named Philanthropic Faith-Based Organization of the Year for an organization that gives of itself to motivate and support its members' service-related efforts.
•Tip McAlpin was named Philanthropist of the Year, which recognizes an individual or family for exceptional generosity and civic responsibility demonstrated by significant financial contribu- tions to charitable organizations in the community.
•Seville Rotary Club Of Pensacola was named Philanthropic Service Organization of the Year, recognizing a community-based organization whose grant programs, donations and chari- table activities significantly enrich the community.