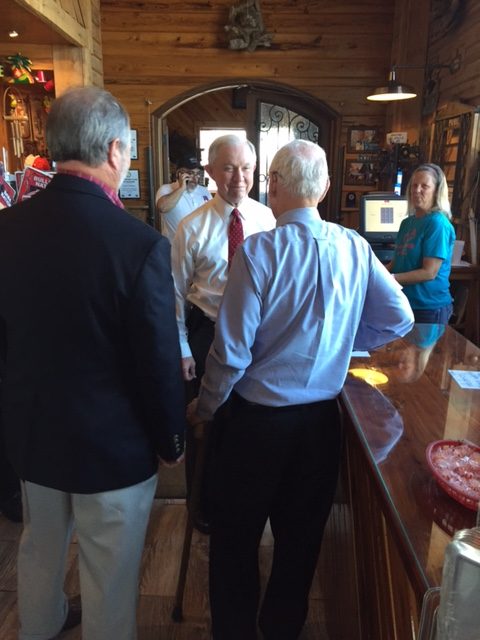 The weeks before the election, U.S. Sen. Jeff Session (R-Ala.) earned his place by Donald Trump's side campaigning for the Republican billionaire. Our reporter interviewed on the Alabama senator while he was stumping for Trump in Navarre, Florida.
This week it was announced that President-elect Donald Trump will nominate Sessions for Attorney General. Our conversations with Trump in early November gave us a peek into how the Trump presidency may go.
Over sweet tea and barbecue at East River Smokehouse Bar-B-Que with a week left before Election Day, Sessions talked with Inweekly reporter Duwayne Escobedo.
The day before Sessions had spoke for Trump in Nevada. He had also been to Colorado, Iowa, North Carolina and Pennsylvania to push for Trump.
Sessions said Trump planned to increase the number of Naval vessels from 280 to 350, modernize the U.S. Air Force and increase the number of recruits to the U.S. Marines and U.S. Army. He said Trump also plans to end caps on spending on the military.
"He's not a normal politician," Sessions said. "He never practiced to be one. Hillary Clinton has an answer for everything. Donald Trump is a man of action and results. He's not a talker."
He did mention immigration, fearing that Hillary Clinton would allow 60,000 Syrian refugees into the United States annually.
"This may be the last chance the American people have to make sure their political leaders follow a lawful immigration system," Session said.
As Trump's Attorney General, Sessions will be in the position to enforce that "lawful immigration system."