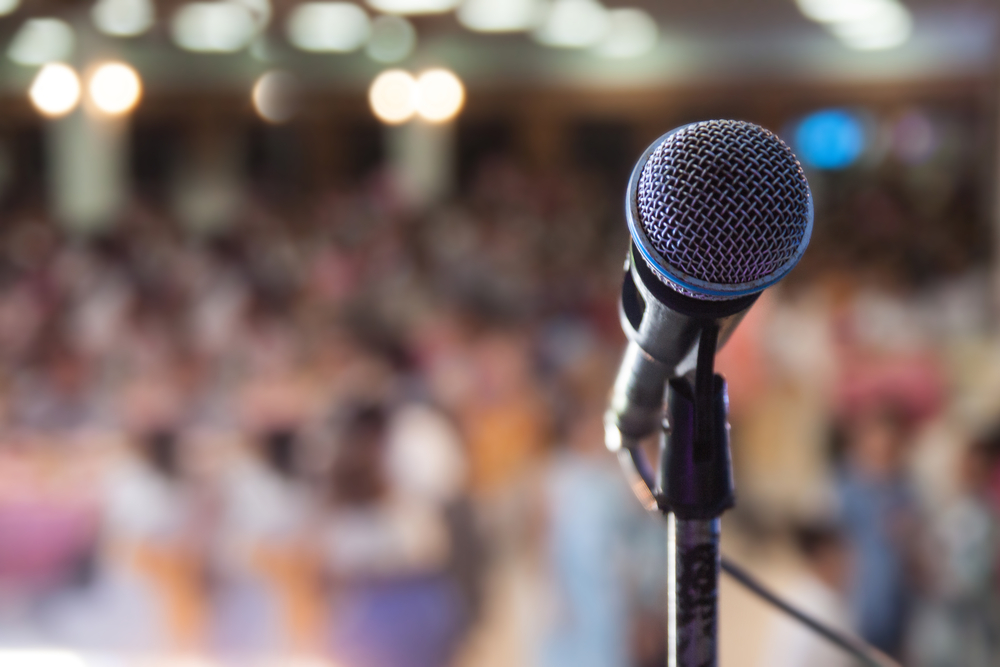 by Jeremy Morrison
Mayor Grover Robinson had a good bit to say about a number of things during his weekly press conference Monday. He spoke to topics ranging from his vision for the Port of Pensacola to the potential for restructuring staff to the ongoing legal case involving the cross in Bayview Park.
The Port's Potential
 Mayor Robinson said Monday that he visited the port last week, meeting with staff and touring the facility. The newly elected official came away impressed.
"I tell you, there are some amazing things that are going on out there," Robinson told members of the press.
The mayor said he appreciated the current port tenants, such as Offshore Inland, and thought the facility should focus on such industrial type of activities.
"That's a niche we can play in, and it can provide good paying jobs to citizens here in the marine industry."

Mayor Grover Robinson on MRO facility at the port
"I think we can be an MRO, I think there are things that we can absolutely work in that repair, maintenance and overhaul," Robinson said. "We can be competitive in that and that's a niche we can play in and it can provide good paying jobs to citizens here in the marine industry."
The mayor went on to say that the port should also accommodate research related ventures, such as one he's championing related to marine research that the Institute for Human and Machine Cognition has pitched, as well as the fish hatchery project that the Florida Department of Environmental Protection had previously planned for Bruce Beach after it was squashed due to community pushback.
Other projects, the mayor said, wouldn't fit in at the port, however. He specifically pointed to Incoa, a company that recently proposed having calcium carbonate mined in the Dominican Republic and shipped toPensacola's port to be milled grains.
"It is not my feeling that they are consistent with what we can do out there at a port," he said.
Bruce Beach
In response to a question about recognizingBruce Beach as having a significant place in local African-American history and culture, Robinson said that he wanted to have signage — already in the works— detailing the area's history, and possibly a more elaborate display.
"I think it really offers us an opportunity to not only tell theBruce Beach story, but it allows us to tell other African American stories within that context and that's what I would like to see happen," the mayor said. "We should make a more concerted effort to show that history and to display that history."
Balancing
The mayor was asked how he was balancing getting to work in his new role, while also waiting for a report from his transition team in March that is suppose to provide a roadmap of sorts. Robinson said he was trying to wait on as much as he could until the report was issued, but was proceeding in some areas.
"It has been a delicate situation," he said. "We've had to move on some things."
In particular, Chris Holley, who Robinson brought in as city administrator, is already busy sizing up city operations. And even before the transition team report, the mayor knows his administrator feels some changes are due.
"I'm sure there will be a restructuring," Robinson said, adding the likely restructuring would be held until the report was issued. "It was my goal before we do any kind of massive restructuring to see what happens with what we get back from the transition team."
The mayor also said the city might add departments, such as a department to deal with neighborhoods.
Neighborhood Town Halls
Public neighborhood meetings will begin in January. Robinson said he'd like to hold the initial meeting in the WoodlandHeights neighborhood.
"My goal is by June we will have done at least one town hall meeting in all seven districts," he said.
Skatepark
Last week, the Pensacola City Council voted to take over responsibility of a planned skatepark near downtown. The mayor said that previously drawn up plans for the park may be incorporated into its eventual construction — "I don't expect it to be radically different" — and that the local skateboard community would be consulted during the design phase of the project.
"I'm very much dependent on the experts that are brought to the table from the skateboarding community," the mayor said.
Bayview Cross Case
The city of Pensacola will be sticking with a lawsuit filed against it involving a cross monument in Bayview Park. Plaintiffs in the suit are asking the cross be removed on constitutional grounds.
Robinson said that because the case is so far along, he feels the city should stick with its appeal, as it will owe the plaintiffs' legal fees if it drops it.
"If we stayed in and we prevailed, we would no longer have to pay those," the mayor said, explaining that there were other cross-related cases, one of which was already slated to be taken up the the Supreme Court, and its ruling could impact the Bayview case.
"I don't believe in any way that  cross is an establishment of a religion."

Mayor Robinson
Robinson said that he remains hopeful the city's legal strategy will prevail.
"I continue to certainly believe there's nothing in theConstitution that says there's a freedom 'from' religion, there's a freedom 'of' religion," he said. "And I don't believe in any way that  cross is an establishment of a religion. No more so that I believe the fact that we had a menorah sitting out front of city hall — we had a lighting of the menorah —that didn't establish a different religion."