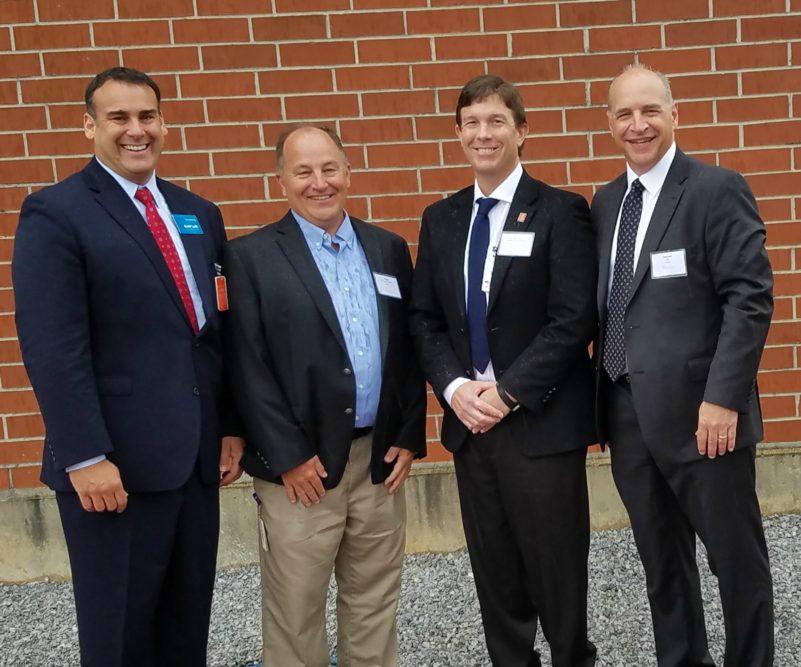 by Sammi Sontag
INWEEKLY
With umbrellas in hand, Ascend Performance Materials LLC in Cantonment celebrated its 8th birthday by dedicating its technology building to the company's former CEO Frederic (Fred) Poses, June 1. A ribbon cutting ceremony followed the dedication.
Unfortunately, Poses could not attend the ceremony, but he sent his best wishes and regards in a letter read by the company's current CEO Phil McDivitt.
"To everyone who I have had the opportunity to work with, I thank you. Thank you for the great times and the great memories in which I will always be grateful," Poses wrote. "While eight years can seem like a long time, in reality, every day is a new beginning. There is always so much more to do, and never enough time to get it done. That's what makes Ascend so exciting and challenging."
He closed, "I am honored you have placed my name on the technology center. I ask you not to think about this as a name of a building, but as a reminder of what you and I want to come out of your work."
District 5 Commissioner Steven Barry, Ascend's chemical site director for Pensacola, John Johannemann, and board chairman Barry Siadat spoke at the ceremony alongside CEO McDivitt.
"At the end of the day, it's about the people," McDivitt said. "It's appropriate that we dedicated the technology building to Fred because he always pushed for innovation and progress within Ascend."
He continued, "The technology building is the center for the company's growth and development. At the heart of progress is technology and Fred had a vision for that future."
The Escambia Board of County Commissioners supports Ascend and its commitment to Escambia County, Commissioner Barry said.
He told Inweekly, "The board recognizes the value of the jobs Ascend provides. The ceremony today was the fitting for the progress the company has made and will continue to make."
He added, "I'm 100-percent sure the area's safety during the natural disasters that came through in 2014 was because of the emergency system put in place by Ascend."
FloridaWest CEO Scott Luth also commended the company's progress.
"Ascend is a growing company looking for local talent," he said. "It's a great example of what FloridaWest (Escambia County's economic development authority) is trying to promote within the community."