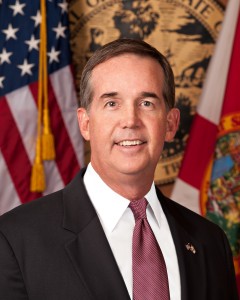 State Chief Financial Officer Jeff Atwater confirmed Wednesday that he might still be open to entering the race for a U.S. Senate seat in 2016.
"Would I continue to contemplate that idea? I would," Atwater said. "But we're not out planning that."
Atwater shocked the Florida political establishment in April when he announced that he would not run for Republican Marco Rubio's U.S. Senate seat, regardless of Rubio's decision on a bid for the presidency. Rubio later announced he would run for the White House, opening up the seat. But Atwater told reporters Wednesday that he continues to get asked about the race.
"I have had many friends who continue to bring up the question, and I've just said, look, I'll contemplate that," he said. Atwater was asked about the possibility of a campaign after the Tampa Bay Times-Miami Herald Tallahassee bureau reported he said in an interview that he was considering the idea.
Were he to jump into the race, Atwater would join a GOP primary field that already includes Lt. Gov. Carlos Lopez-Cantera, Congressman Ron DeSantis, Congressman David Jolly and Orlando businessman Todd Wilcox. Former Florida Attorney General Bill McCollum is also considering a bid.
-source: The News Service of Florida