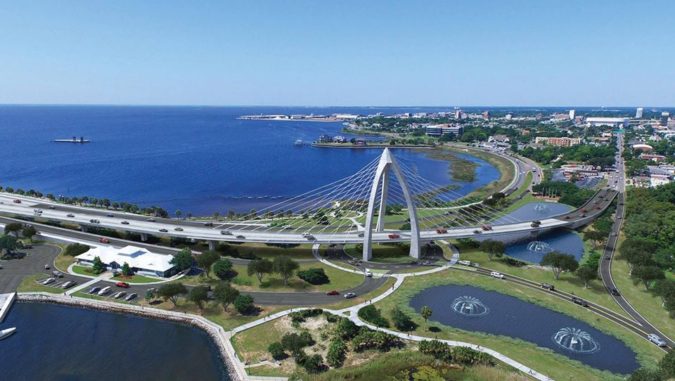 By Duwayne Escobedo, Inweekly
— Today, locals refer to the bridge connecting Pensacola to Gulf Breeze as the Bay Bridge or Three-Mile Bridge.
Have you ever heard it called the Sen. Philip D. Beall Sr. Memorial Bridge? Neither have we but the renaming has focused attention on the actual name.
Begun in June 2017, locals can now see the $398.5 million project taking shape. The skeleton of the first three lanes crossing Pensacola Bay with workers climbing all over it like ants.
Construction of two separate spans of six 12-foot lanes with 10-foot inside and outside shoulders and 10-foot pathways for pedestrians and bicyclists on each side is scheduled for completion in mid-2021, the Florida Department of Transportation reports.
The progress has inspired a handful of Pensacola citizens to seize on the opportunity to rename the "largest transportation initiative in Northwest Florida," after U.S. Air Force four-star Gen. Daniel "Chappie" James Jr., who was born and raised in Pensacola. He became the first black person to earn the military designation in 1975.
Retired U.S. Navy Capt. W.A. "Butch" Hansen, the former president of the Veterans Memorial Park Foundation near the north end of the bridge, joined the effort about six weeks ago.
"As a native son, recognition of his achievements is way overdue in this community," said Hansen, a submariner for most of his 30 years of service. "He's a veteran of three wars. He's legendary. His rise to four stars in the military as a black man in that time frame is just remarkable. No one would doubt he didn't earn that on his own merit."
However, the renaming to honor James, a fighter pilot from Tuskegee Institute, has met with some resistance from the Beall family, particularly from the late Florida Senate president's grandson, Kirk Beall Jr. The small business owner in Deer Park, Texas, would like to keep the Beall name on the four-lane span first opened in October 1960.
"The area has forgotten about my grandfather," Beall said. "Nobody remembers who he was."
Beall said his grandfather did a lot for the area as a Senator from 1935 until his death in office in 1943. The elder Beall was conferred a law degree as a 19-year-old from the Florida Supreme Court. He would like to see James and Beall both have their names on the 61-year-old bridge.
"I'm not opposing the changing of the name for Chappie James," Beall said. "But, if it's exclusively Chappie James, I won't be happy with it."
However, James supporters have revealed that Beall pushed for a bill to ban blacks from voting in several Florida cities in 1935 and then-Gov. David Sholtz into law.
"That's one action he took," he said. "But he had a lifetime of achievement in Escambia and Santa Rosa counties. They've come after our whole family."
The group pushing to honor James–who served as a Tuskegee flight instructor during World War II and flew in 179 combat missions in the Korean and Vietnam Wars–has already earned a green light from the Pensacola City Council in a 6-1 vote recently. The Santa Rosa County commission unanimously approved a resolution Monday, Feb. 11 to rename the bridge.
They are also seeking approval from the Escambia County commission at tomorrow's meeting.
The group had a Feb. 22 deadline to pass the name change in all four local government bodies. Once that is done, the General Chappie James Memorial Bridge supporters will go to state lawmakers this session to seek an official designation.
Some have questioned why the group wants to move the process along so fast.
Jeff Bergosh, who met with the Beall family recently, questioned the rush. Both District 5 Commissioner Steven Barry and District 2 Commissioner Doug Underhill agreed with him. Bergosh also reported that James already has 13 memorials in his name.
"We're not going to follow someone's artificial timeline," said the District 1 commissioner. "Who comes up with a name two-and-a-half years before the completion of a project? That's very unusual."
Underhill belittled the citizen-led initiative. He is a 27-year Navy veteran and currently serves as the Reserve Commanding Officer of a Cryptologic and Intelligence unit in Greensboro, N.C.
"I don't understand why this has become such a press suck," the two-term commissioner said.
Hansen said getting the state to change the name this session is critical to ensuring the group can kickoff private fundraisers. They plan to erect a Chappie James monument near the bridge. He said no local or state funds would be used.
"It takes a whole lot of time to raise money and commission an artist," Hansen said. "If we wait another year, it will be very difficult. It would be much more successful to have it already to go when the bridge gets done."
Only District 4 Commissioner Robert Bender, who added the bridge naming to the Committee of the Whole agenda, expressed support for the effort. He also recommended creating a special committee to analyze the name to create "community buy-in" with naming the bridge after James, a military icon.
Chairman Lumon May left county chambers right before the discussion. The commission is expected to debate the issue in the near future.
"Chappie James should be honored," Bender said. "This is a major artery into Escambia County. With all the development on our waterfront right now, why not look at expanding our cultural and historical tourism?"
---
Behind-the-scenes there is a discussion about dropping the naming issue for the present and, instead, have the city of Pensacola named its airport for General James.
However, the item isn't on the agenda for next week's council meeting that was released late Tuesday afternoon.
The County Commission may delay its decision by appointing an advisory committee to look at bridge names, which would give Mayor Grover Robinson time to propose renaming the airport.