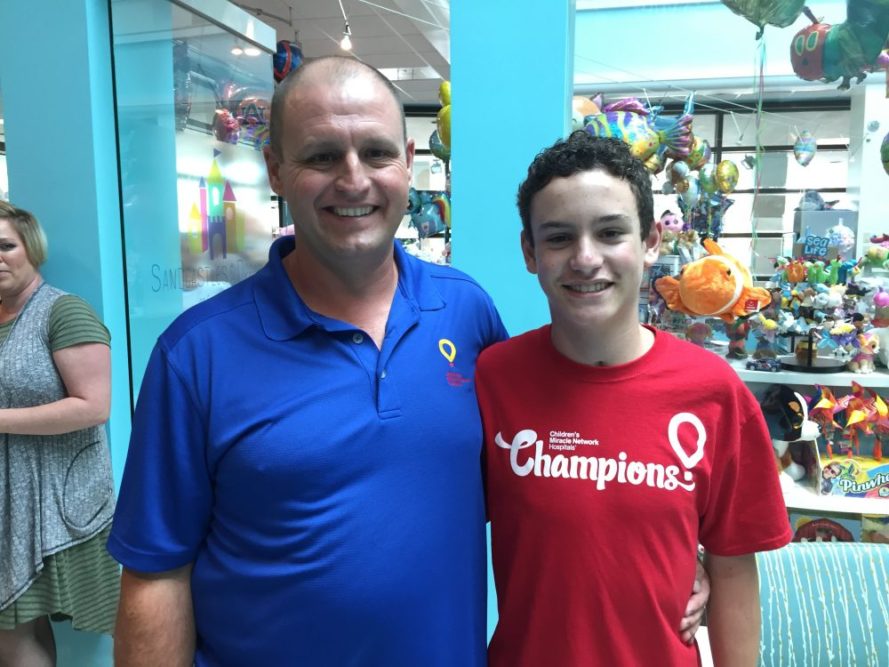 By Duwayne Escobedo
INWEEKLY
Trey Barefield remembers getting a call at 4:45 a.m. to come to the Children's Hospital immediately to check on the condition of his severely injured son, Drew.
They were staying in the Ronald McDonald House just down the hill from the hospital and he said the 10 minutes to get to his son's bedside seemed like an eternity. Doctors had his son's legs in the air to keep him from bleeding out.
Now families like the Barefields will be able to stay in a three-room Ronald McDonald space located on the second floor seconds away from the Neonatal Intensive Care Unit in the four-story Studer Family Children's Hospital at Sacred Heart, which is expected to open in 2019.
"These are excellent new facilities," Trey said. "It's an awesome service. You're just 50 steps away."
The Barefields, who live in Crestview, stayed at the Ronald McDonald House for 75 days, while Drew underwent 13 surgeries. The 12-year-old boy was snorkeling in Pensacola Bay when another boat injured him in a hit-and-run accident. He had to fight off three different bacteria, had a ruptured spleen, punctured a lung and his kidneys looked "like eggs smashed on a counter."
Trey, who was fishing for mullet, said he arrived at the Ronald McDonald House with his clothes covered in blood and sand. Ronald McDonald House had everything he needed to clean up and even allowed his wife, a dental hygienist, to brush her teeth.
"They cry with you, they pray with you, they support you," Trey said, holding back tears. "They became like a family to us. The care we received here was second to none. You can't put a price tag on the service they gave."
Today, Drew looks like any normal high school sophomore. He's wearing a red T-shirt, cut-up jeans and sneakers. However, the now 15-year-old raised $1 million toward the new Ronald McDonald Family Room. What does he remember about the traumatic time in the hospital?
"I remember the funny times in the hospital like when Superman came to visit me," he said.
The space is 3,000-square-feet and has a beach-theme. In the future, families will be able to take advantage of staying in one of the three rooms that each have a bathroom. Families can use the laundry facilities and shower room. They can also escape to the Quiet Room for privacy, the large open living and dining room, a computer area and playroom for the young patient's brothers or sisters.
Dr. Rob Patterson, the Children's Hospital medical director, hugged Drew when he spotted him. He said Drew was the sickest of the sick then. Patterson said at a previous hospital in Denver where he worked, he recalls parents sleeping in hallways to be near their children.
"This is what we would want for ourselves," Patterson said of the new Ronald McDonald space. "It's a little embarrassing when his dad said what a blessing we were in his families' lives. From my perspective, we felt loved and blessed in ways I can't describe by them."
Henry Stovall, the Children's Hospital president, said the new Ronald McDonald Family Room "was truly and effort of love."
Judy Burns, Ronald McDonald House Charities of Northwest Florida executive director, said the organization has served more than 14,000 children and their families since 1984. She said many had to be turned away because of a lack of space.
"Need a rest? Need to recharge? That's what the Family Room is about," Burns said. "We're so excited about the room. It should feel like you're walking into a friend's house."
Check out: Ronald McDonald Family Respite – Overall Layout – 4.19.17