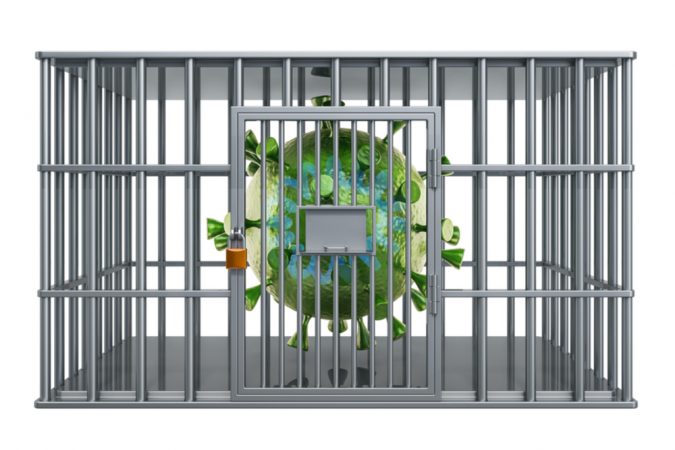 On Thursday, Aug. 27, the Escambia Board of County Commissioners learned only six inmates at the Escambia County Jail had been tested for COVID-19 a week after the board approved $1.25 million to be spent on rapid testing and instructed County Administrator Janice Gilley to make it available to prisoners.
At the special commission meeting, Corrections Chief Rich Powell told the board his staff couldn't get prisoners to agree to be tested—"a lot of them find out what the process is and the protocols; they don't want to go into a lockdown unit. And none of them that had requested had any medical signs or symptoms."
Commission Chairman Steve Barry objected to Powell's statement about symptoms being a factor in testing.
"Well, that part doesn't matter," said Barry. "I don't think the board's ever said that they care about that. If they've asked to be tested, that's the only parameters the board sets. The fact of anyone's assessment of their symptoms has not ever been anything the board's given feedback about."
Powell replied, "Well, I understand, sir. What I'm saying, though, is for them to be tested, we have to assume that they maybe want to be tested for a reason. We move them out of the general population."
"I understand, but the reference to their medical condition or their symptoms is not relevant, I don't think, to any of the board's discussion," said the chairman. "Do you understand what I'm saying?"
"I understand what you're saying," said the corrections chief.
After the board had instructed the administrator to test inmates upon request at three meetings—July 2, Aug. 6 and Aug. 20—Barry wanted to leave no doubt about the board's intentions.
"The board's never given any feedback about, do you think they're symptomatic or does your staff think they're symptomatic?" said Barry. "If they ask to be tested, the board is giving clear feedback—we want [them] tested."
Chief Powell replied, "I understand that, sir."
On the status of the rapid testing, Chandra Smiley of Community Health Northwest Florida said her organization had executed a contract with Abbott for the rapid test.
"We'll be getting 24 analyzers," said Smiley. "So the first step is to get the analyzers. I'd expect that within the next week or two. And then very shortly thereafter, the tests will begin to come in. By the middle of September, we would be able to deploy a process where everyone being booked would be tested."
Barry asked, "And you become a fixture at CBD (Central Booking and Detention)?"
"Yes, we would deploy and analyze it," answered Smiley.
Barry added, "As quickly as you're able to deploy, the board is very supportive of it, Chandra, as quickly as you're able to do it."
Commissioner Lumon May wanted to make it clear that the board had voiced approval of rapid testing for inmates several times. He said, "That was, quite frankly, a directive months ago, that we should have. And so, hopefully, more inmates will feel comfortable with this swab. And I think it's an educational process of letting them know it's not a deep swab. I mean, it's not as inconvenient as the other one."
Smiley agreed, "Right. We're not touching brains. It's easy, quick, easy to train and a very quick result."