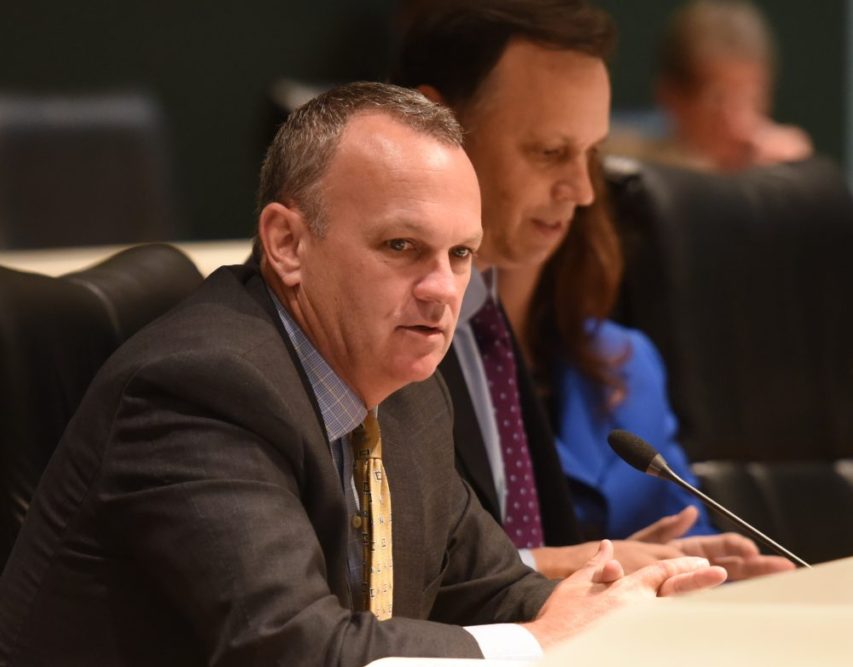 By BRANDON LARRABEE
THE NEWS SERVICE OF FLORIDA
One of the most memorable speeches by Richard Corcoran, who will officially become speaker of the Florida House next week, had nothing to do with his goals for what the Legislature would achieve. It had everything to do with stopping something he despised.
It was 2015, and the Senate was proposing a variation of Medicaid expansion that Corcoran and many other House Republicans adamantly opposed. In a fiery speech on the House floor, Corcoran made it clear that there would be no compromise.
"They want us to come dance," Corcoran, R-Land O' Lakes, said. "We're not dancing. We're not dancing this session, we're not dancing next session, we're not dancing next summer."
The House did not dance, the Legislature did not pass a budget on time and a special session was called in June. The health-care legislation that Corcoran denounced never became law.
It was quintessential Corcoran — determined and willing to do what is necessary to approve what he sees as a good idea, or snuff out what he sees as a bad one. Someone willing to upset the status quo. A change agent, but perhaps in the same way that a wrecking ball is a change agent.
"I don't mean this literally, but he's going to blow the place up," said former lawmaker Mike Fasano, a longtime Corcoran friend who is now Pasco County tax collector. "And I mean that in a good way."
Much remains undefined about Corcoran, but what is known can seem contradictory: the lawmaker who wrapped up the speakership before his first session, but now vows to shut down early leadership contests; the man who blasts lobbyists, a profession that includes his brother; the insider who expresses disgust at the behavior of the Tallahassee establishment even as he is about to take on one of its most coveted positions.
In some ways, the history of the next two years of the Legislature hinges on answering some of the questions about Corcoran.
"I think he probably will be the most powerful and most influential speaker we've seen in a very, very long time," said Sen. Tom Lee, a Brandon Republican who worked with Corcoran for two years in budget negotiations.
MAN OF THE HOUSE
Corcoran's involvement in the House stretches back a quarter of a century. He began working in the minority office in 1990, back when Republicans seemed almost as hapless as Democrats do now. Eight years later, Corcoran made his first bid for public office — running for a House seat against Nancy Argenziano, who crushed him by nearly 45 points.
It was a job offer in 2004 that provided Corcoran with his most promising opportunity. He began heading up the political operation for Marco Rubio, who was to become speaker of the House after the 2006 elections. Corcoran then became chief of staff for Rubio.
The political bug didn't go away. Corcoran filed to run in a special election for a Senate seat in 2008 but didn't qualify for the office in the end. Two years later, he won a three-way race in his current House district in Pasco County. By then, Corcoran was already running to be speaker of the House.
He was hardly alone, and rivals who didn't have to worry about contested campaigns got a jump on Corcoran.
"While I was campaigning in what was a very divisive, heavily fought Republican primary, other people were out legitimately campaigning for the office of speaker," Corcoran said. "And so part of me thought that that could be a fairer system."
Corcoran and his allies had tried to get Republicans to commit not to pledge their support early to any candidate for speaker; the idea fizzled. Corcoran won the speaker's race anyway, but the accelerated contest bothered him — prompting him to get behind an effort now to bar would-be speakers from campaigning before they have served in at least one legislative session.
Regardless of the means, Corcoran was on track to be one of the most powerful figures in state government. And he wasn't done fighting.
Perhaps the best way to try to figure out how Corcoran will deal with the competing interests that buffet any speaker is to look at how he served the past two years as chairman of the House Appropriations Committee, a powerful job in charge of drawing up the budget.
The budget fight in 2015 was what prompted Corcoran's broadside against the Senate and lobbyists. The quickened cadence, the zero-to-60 quality of Corcoran as he moved from calmness to outrage, the strident tone — those were the hallmarks of Corcoran's speeches when an issue gets to him.
It was an example of what Corcoran said he has learned from years in the legislative process.
"You ought to know your philosophy, you ought to know what those principles are inside and out, and then you ought to die for them. And by die, I mean a political death," Corcoran said. "No matter how much pressure the special interests (bring), or how much the status quo fights you, you should die for those principles, because that's the only thing that makes our state, our communities and our nation better."
In this year's legislative session, Corcoran addressed another issue that offended his ideology almost as much as Medicaid expansion, when Gov. Rick Scott asked for $250 million in business incentives. The House, led by Corcoran, didn't bend.
Lee said that many negotiators, after extracting some concessions, would have allowed perhaps $50 million to go to the effort.
But Corcoran wouldn't.
In the end, Fasano said, that stance led to Scott vetoing some local projects for Corcoran's area.
"Richard knew that it was going to happen," Fasano said. "But he also knew that it was more important not to fund a growing corporate welfare program."
MAN OF THE HOUR
That unyielding quality, though, leads to one potential pitfall for Corcoran as he assumes a role negotiating over the future of the state. While friends and allies generally consider it a positive, they often portray Corcoran as borderline inflexible when it's a core principle at stake.
"When he puts his mind to something, it's very hard for anyone who may be on the other side to change his mind," Fasano said.
But Lee, himself a former Senate president, said Corcoran is not necessarily difficult to deal with.
"For me, it was easy, because I don't like negotiating with people who hide the ball, and Richard Corcoran will not hide the ball," he said.
Fasano said he believes Corcoran has realized the need to compromise because of his experience opposite Lee. And former House Speaker Steve Crisafulli, a Merritt Island Republican who was Corcoran's predecessor, said Corcoran is aware that a time for compromise comes.
"I believe that he knows — based on the issue and the timing and how other people are reacting — when that time is," Crisafulli said.
In the meantime, Corcoran has gotten to work on molding the House to fit how he thinks it should work, and the results have been more in keeping with Corcoran the firebrand than Corcoran the potential dealmaker.
The new House GOP rules on contests to become speaker mark just one angle of his early efforts at overhauling Tallahassee. A draft of the rules for the full House offered by Corcoran and his leadership team would bar lobbyists from texting lawmakers during committee meetings or floor sessions, require lobbyists to disclose specific issues that they are working on and ban House members from flying on planes provided by lobbyists or their clients.
That has sparked criticism that Corcoran is more than a bit hypocritical. His brother, Michael, is a lobbyist, and the speaker is hardly a stranger to raising campaign funds from the special interests he now assails.
There could be a cause and effect, though.
"Because of his years of experience working around the process, I think he's developed a healthy cynicism towards how business is conducted in Tallahassee," Lee said.
Corcoran put it similarly.
"I probably have a pretty good handle on where the process is in need of improvement to ensure that we're absolutely doing the people's work and not others'," he said.
His goals can sound almost grandiose; Corcoran said he hopes for nothing less than "two of the most transformational years in the history of the state." An overhaul of the judiciary, which Corcoran sees as having overstepped its bounds, and free-market concepts for health care and education are among the top items.
Some of those proposals have been floated before, but Corcoran brushes off the idea that they now have a chance simply because he is one of the most powerful men in the state.
"Here's what you can never do: You can never keep a good idea down," he said. "Speakers come and go, Senate presidents come and go, legislators come and go, but you can never stop a good idea."
But bad ideas, however defined, can also be difficult to kill in Tallahassee. Lee said that to do that, Corcoran wouldn't be bothered by a late finish to the budget or a summer special session — something speakers and Senate presidents generally strive to avoid.
"What would bother Richard Corcoran," Lee said, "would be capitulating to a bad set of ideas to get out on time."
———-
"Pensacola Speaks" podcast with Corcoran: