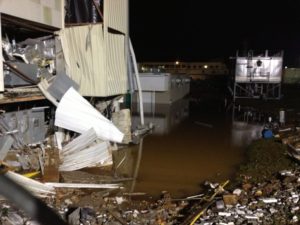 Escambia County has notified their employees injured in last year's explosion at the Central Booking and Detention that they will be honored by the county commission in May. For those whose injuries prevent from returning to work, they will be terminated at the end of the month..
We've covered the April 30 jail explosion extensively–a blast that killed two prisoners awaiting trial, left a corrections officer paralyzed and hundreds injured; a blast that was caused by a natural gas leak in the basement of the building that had county officials had declared safe earlier in the day; a blast that caused an estimated $40 million worth of damage.
The jail staff were notified recently by Corrections Director Michael Tidwell they will be honored at the May 6 Board of County Commission. Those injured last year and whose doctors have restricted them from returning to work were also told that if they don't return to work by May 15, they will be terminated on May 31.
Escambia County has not fully dealt with the State Grand Jury report on the explosion or reprimanded those who mishandled the gas leak or examined what were the system and culture issues inside the corrections department that caused this tragedy. Yet, it's quick to jettison those hurt because of bad decisions made by its leadership.