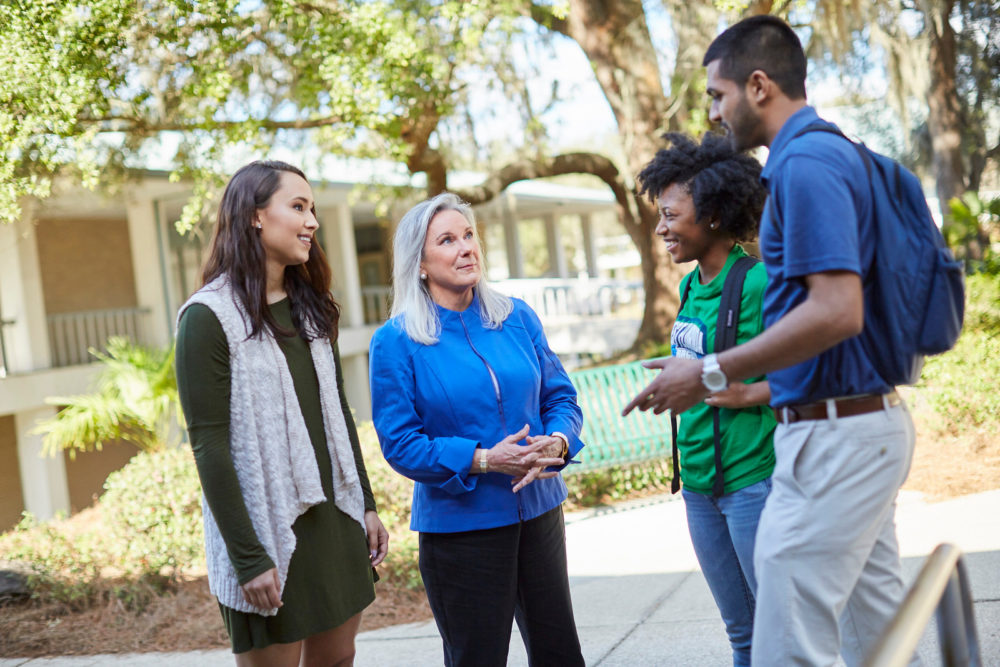 Dr. Martha Saunders, president of the University of West Florida, sat down yesterday with Inweekly to discuss her plans for her employees.
"When all of this started, we quickly encouraged our employees who could work remotely to do," she said, while sitting six feet away. "Now with the schools closed, that's changed a bit of the dynamic as to who can stay and who can go, but the business of the university is still ongoing. We still have people on campus working in offices. We have quite a few working from home. We have some that are on leave until they can figure out childcare."
Dr.Saunders believes that it's important to have as many people who can safely work on campus to do so. She said, "I talked about it with my Cabinet today for the stability of the institution, but also I think for the mental health of our employees."
She continued, "It is important to keep the work of the university done. So, we're being as flexible as we can. Certainly, every employee has a different set of needs, but as long as we can safely have folks working on campus, that is what I'm hoping we can start moving to."
Inweekly asked about how students are adapting to online courses.
Dr. Saunders said. "The feedback I've gotten is really good, and the faculty have been great. We were well prepared in having these e-learning shells already set for every course we offer. So, all the faculty had to do is activate the shell, and then we had the e-learning environment populated."
UWF has set up "boot camps" for faculty members that aren't yet comfortable or familiar with working online. The UWF president, however, is worried about some of the student.
"I am concerned if any student hasn't yet logged on to their class, they need to do so soon," said Dr. Saunders. "If they're having trouble like finding connectivity or making it work, they need to just call us on the phone, and we'll guide them through the next thing to do. But we need to hear from them."
She added, "If we haven't heard from students, we worry–are they okay? And what are their plans? Because it's a pretty confusing time for everybody."
The university has tried to keep the communication steady and ongoing.
"It changes all the time," she said. "We have a website, that's uwf.edu/coronavirus, and it's every updated piece of information. But right now, like I said, today's keen interest is making sure all these students log on to those courses, and then the faculty will tell them what to do."
What does the future look like for UWF?
"In conversations, we're encouraging each other to go ahead and start summer assuming we're going to stay online," answered Dr. Saunders. "Later, again we're watching the environment, if it looks like we can safely schedule face-to-face classes, then we will do that. But we think it's just a more prudent action to go ahead and planned out summer online as well."
She was upset to cancel graduation – "which broke my heart because it's my favorite day." Dr Saunders said, "We're working with our student leadership to maybe find a suitable alternative, either a rescheduled date. Or there's a webinar today on virtual commencement ceremonies, and so we'll see what works and what the students want to do."
She said protective students are still checking out UWF.
"I was very surprised that we can do so many of those orientations virtually," she told Inweekly. "We have virtual tours that we just say, '"Look at this,' but we can still have the face-to-face with them, but we're on a screen and they're on a screen. And so, I was pleasantly surprised that these things, they're compromises, but it's not an all-or-nothing."
Dr Saunders added, "And so, we're finding some very creative ways that I think will make us better on the other end of this because we're experimenting with things that we might not have tried to experiment with a week ago."