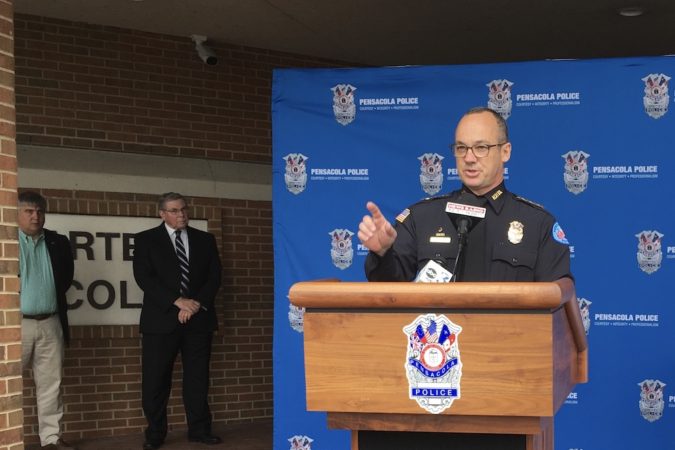 DNA Technology Leads to Cold Case Arrest
By Jeremy Morrison, Inweekly
On New Year's Day in 1985, Tonya McKinley's body was found at the corner of Peacock Drive and Creighton Road. She'd been sexually assaulted and strangled to death. Her family has waited 35 years for some sort of resolution, which came this month due to newly available forensic technology.
"We waited a long, long time for this," Rene McCall, Tanya's sister, said on Thursday. "I tell you, yesterday I felt her smiling at me. She can finally be at peace."
Law enforcement officials announced Thursday the arrest of Daniel Leonard Wells, for the rape and murder of McKinley in the decades old cold case. The arrest came following the analysis of DNA evidence from the crime scene, which was cross-referenced with DNA databases collected by private genealogy companies.
"Technology is quickly catching up to the bad guys of long ago," said Pensacola Police Department Public Information Officer Mike Wood.
In November of 2015, the Pensacola Police Department submitted DNA evidence from the 1985 crime scene to Parabon — one of two private genealogy companies that allow law enforcement access to DNA databases.
"These are databases where other people have uploaded their DNA profile and opted in for law enforcement to search," said Jeff Massey, of the FDLE's Pensacola office.
The FDLE created a genealogy division in 2018 to conduct just this type of work. The team runs DNA evidence against the DNA databases to find individuals with similar DNA.
"These are people who share DNA with the DNA profile from the evidence," Massey explained. "The more DNA that is shared the more closely related the match is to the suspect."
Working off the leads provided by this technique and technology, law enforcement is able to development and follow leads much more precisely. Massey said that — aside from Wells arrest — the FDLE has used the process to reopen a number of cases ranging from 1981 to 2016, involving eight murders and three rapes.
"The program essentially builds on the hours, the tireless hours of work done, investigatipvely and forensically, by law enforcement and our crime lab," Massey said.
In this particular case, after identifying Wells — who is now 57 — as a suspect, police compared the DNA evidence collected at the crime scene with the DNA collected from a cigarette butt which Wells threw out of his car window and was collected by a surveillance team that was following the suspect.
State Attorney Bill Eddins said he would seek a charge of first degree murder in the Wells case. Due to the current coronavirus situation, he said, the case's submission to a grand jury would be somewhat delayed.
Eddins called the DNA technology used in this cold case a "new and exciting tool" at law enforcement's disposal.
"It is amazing to me that we've been able, throughout America, to solve many old homicides that have been impossible to solve without that new investigative technique," he said.
When McKinley was murdered in 1985, she left behind an 18-month-old son. He was present Thursday during the announcement of Wells arrest.
"I knew I'd see this day," said Tim Davidson, who summed up his feelings in a word: "Relief. I don't want to say peace yet, until we see the outcome of what happens, but just — my whole life, not knowing, and now I do. Like I said, it's just total relief. And it's good to see that justice is finally being served."