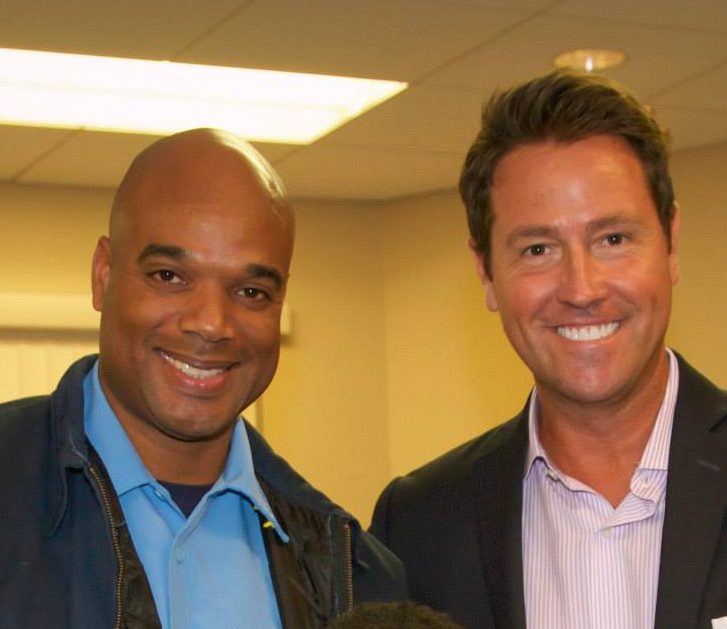 The complaint lodged by Chief Human Resources Officer Ed Sisson that has gotten the most attention from the media concerns how Fire Chief Matt Schmitt handled a complaint filed by a firefighter against Deputy Fire Chief Joe Glover.
Schmitt later demoted the lieutenant for taking the complaint to the mayor and others at City Hall after the chief failed to act on it. City Administrator Eric Olson, at Sisson's insistence, intervened told Schmitt to reverse the demotion and to give the lieutenant a written reprimand.
Sisson later charged, "Schmitt and Glover intentionally and deceptively severely retaliated against Edward Deas, an African-American Fire Lieutenant, merely because Deas made a written complaint about Glover."
What was the written complaint about?
On Aug. 11, 2015, Fire Lt. Edward Deas sent Pensacola Fire Chief Schmitt a document labeled, "Timeline PUFFA." In the document, Deas asked the chief to investigate whether Joe Glover was pressuring Fire Lt. Stefon Andrews, the president of PUFFA.
PUFFA is a charitable non-profit organization. The African-American members of the Pensacola Fire Department formed the Pensacola United Fire Fighters Association (PUFFA), which incorporated in 2010. In June 2014, the association was granted 501(c)(3) tax-exempt status by the IRS.
According to IRS regulations, an organization may qualify for exemption from federal income tax if it is organized and operated exclusively for one or more of the following purposes: religious, charitable, scientific, testing for public safety, literary, educational, fostering national or international amateur sports competition, or the prevention of cruelty to children or animals.
They are not unions. PUFFA has no more official standing with the City of Pensacola or the Pensacola Fire Department than Five Flags Rotary or Pensacola Federation of Garden Clubs.
Deas was president of the organization from 2010 until the second half of 2014 when there was a dispute over PUFFA's financial records. When PUFFA earned 501(c)(3) tax-exempt status, some members became concerned over Deas and other PUFFA officers not having the proper recordkeeping. Not able to satisfy the membership, Deas ultimately resigned as president and quit paying dues in December 2014.
The first page and a half of Deas' timeline gave his version of how Deputy Chief Glover, Capt. Derrick Streeter, Capt. Jose Cobbs and Capt. Marquette Oliver mistreated him "so they could control PUFFA and the uses (sic) its name and authority to go after their own agenda."
Deas offered no evidence that his PUFFA dispute with Glover, Streeter, Cobbs and Oliver or his resignation as the group's president impacted his job at PFD. There were no allegations of harassment or intimidation regarding his job as Fire Lt.
Disputes between members of a private club are not covered by the HR manual, anymore than city employee getting upset he or she got kicked out as captain of a bowling team by other city staff.
In the next four paragraphs, Deas asserted that Glover tried to intimidate the new PUFFA president, Stefon Andrews. How? By writing a letter for Andrews to sign asking for a meeting between PUFFA members and the mayor in July 2015. Deas said that Andrews refused to sign it and did not send the letter.
Then Glover sent out a text to approximately 12 members saying he planned to run for PUFFA president next year. Deas said this was proof that Glover and the older members were intimidating Andrews.
The closing paragraph jumped back to October 2014. Deas said Glover and the older members had no proof he had mishandled the group's finances. (Glover has told Inweekly that Deas still had not turned over all the PUFFA financial records as of Aug. 11, 2015.)
"This embarrassment ultimately led to my forced resignation as president," wrote Deas. "Now the same scenario is continuing with Stefon Andrews being the target since he is the new president and is not going along with the plan. I would ask you to please investigate this matter."
Again no allegation was made the Andrews' PFD job had been impacted.
The members of PUFFA have right to challenge their leadership. They can ask for meetings with the mayor or any elected official. Members can request financial records. Members can even have different agendas from the leaders and try to get their agendas accomplished.
Officers and members can chose to stay or form a new club.
Inweekly has asked for interviews with Chief Human Resources Officer Ed Sisson, but he has declined the request twice.
Though Deas is not a member of the fire union, the collective bargaining agreement gave him an option to use the grievance procedures set up in the agreement. However, at least one veteran fire union leader believes that Deas' complaint would not have been seen as a grievance.
"In my opinion, from my years in the leadership of the union, that complaint did not violate an article in the collective-bargaining agreement," he wrote Inweekly. "In order to file a grievance, an article has to have been violated."
He added, "Please don't use my name. As you have said before, Hayward can be very vindictive."
Read Deas_compliant.
———–
One additional note: Section H-3 of the Human Resources Manual, as well as State and Federal law pertaining to Prohibited Employment Harassment and/or Discrimination, state that an incident must be reported with 180 days of its occurrence. Deas' presidency episode had long passed that reporting deadline.