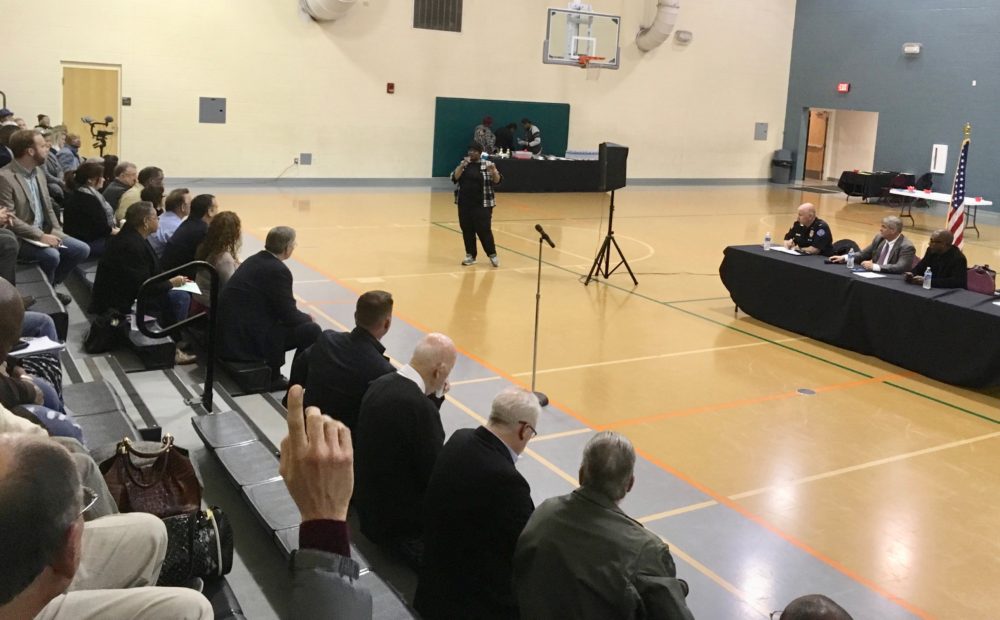 by Jeremy Morrison, Inweekly
Residents of Pensacola's District 7 enjoyed an audience of three of their elected officials Monday evening, with Mayor Grover Robinson, City Councilwoman Jewell Cannada Wynn and Escambia County Commissioner Lumon May fielding questions at the Theophalis May Resource Center's gymnasium.
Issues discussed during the forum ranged from neighborhood concerns, to municipal issues such as annexation and historic preservation, as well as a jobs pitch from ST Engineering, which intends to expands its operations at the airport.
The night's first question pertained to a subject Mayor Robinson has been game to discuss: annexation. Actually, the question pertained to a woman having issues getting either the city or county to service her property, but the query was quickly directed toward annexation.
"There's always a problem distinguishing because I live between the city and the county," the woman said, going on to explain that she needed assistance addressing concerns about people living in the woods near her property, where her family recently saw one person defecating and two other men having sex. "I can't even have my granddaughter come and play in my backyard."
Robinson told the woman that municipal services tended to be more attentive than county services, and said he'd be happy to discuss annexation with her and her neighbors.
"The level of service is not quite the same," the mayor said. "If your neighbors would like to [annex], I'd love to go talk to them."
Commissioner May followed up by assuring the woman a county employee would be tending to her concerns by Thursday.
Another attendee, Marilyn Wiggins, president of the Tanyard Neighborhood Association, raised concerns about developers working on projects in the area on Sundays.
"They feel like they can work whenever they want to," Wiggins said. "I can't even rest — out there with a hammer on Sunday."
Robinson said he would follow up on the concerns: "If we have to go to the police, we'll be going that route."
The elected officials also addressed concerns about panhandling in the area, with one resident citing "general fear and harrasment" due to panhandlers. Mayor Robinson said that the city and county are currently working to address the issue of homelessness, specifically pointing to plans for a come-as-you-are shelter; he explained that if officials didn't make an effort to ease the issues of homelessness, then any legal effort aimed at panhandling would likely fail due to legal challenges.
On the jobs front, ST Engineering's Bill Hafner was in attendance to lay out opportunities with the aerospace engineering company that is stretching out at the Pensacola International Airport. He encouraged people to point people toward the company's training programs, with the goal of securing a full-time, solidly-paid job.
"You've got a wealth of young people coming up through the ranks that we think would make great aviation technicians," Hafner said.
Commissioner May asked the ST official how the company would ensure that employees were drawn from the local pool, as opposed to bringing in workers to the area, and what the demographic breakdown of current employees were.
"The goal is to bring these jobs to the people who live here," Hafner told the commissioner, explaining that currently the company has about 12 percent each of women and minority employees.
Attendees of town hall also got updates on a number of improvements happening in District 7, primarily to the park outside the community center, as well as other parks in the area. Legion Field, for example, is due additional field space, a new press box and playground, as well as a splash-pad.
"Kids — they go crazy at Plaza De Luna when they get in that water," Cannada Wynn said, referencing the city's splash-pad installation downtown. "We wanted them to go crazy here."
Pensacola's next town hall will Feb. 26, at the Creative Learning Academy in District 4. The event will feature District 4 City Councilman Jared Moore, state Rep. Alex Andrade, Escambia County Commissioner Robert Bender, Escambia County School Board member Patty Hightower and ECUA member Dale Perkins.