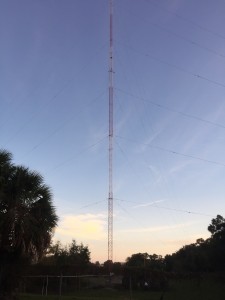 Inweekly made a public record request of the Divine Word Communications for documents related to its ground lease for a radio tower in the Long Hollow Conservation District.
Attorney Ed Fleming sent the newspaper the documents after reviewing them for his client Gene Church, owner of Divine Word.
Fleming wrote:
Here are the documents responsive to your public documents request. They were sent to me for attorney-client privilege review. No documents have been withheld under claim of attorney-client privilege. I appreciate your patience on getting these…These documents are all documents required by the contract with the city. As you know, no money went from the city to Divine Word, but rather in the reverse direction. The obligations by Divine Word was to replace existing tower (permitting documents in our client's possession have been produced), obtaining FAA and FCC approval (obtained), payment of rent, and maintenance of insurance.
Here of the documents, some of which the City should have already requested of the leasee, but apparently did not:
1) Certificates of Insurance from Custom Towers of Ellisville, Miss. for 4/4/14-4/4/15 – for City of Pensacola, Biggs Construction and Divine Word.
2) Insurance policy with Hanover for 12/23/15-12/23/15. Tower schedule states tower was built 2014, height 400 ft., and replacement cost $200,000
3) Two Commencement Notices prepared by Biggs, signed by Church. 1) dated 1/28/15 2) dated 1/15/14
4) A proposal letter from Biggs dated 3/16/14. Signed by Biggs, not Church.
5) Two contracts with Gulf Coast Building Contractors, dated 3/26/15, 5/5/15. Both unsigned.
6) Certificate of Insurance from GCBS for 5/6/15-11/6/15 – for City of Pensacola
7) Anchor Modification Drawings by Leo Roberts, dated 3/11/15
8) Replace Existing Tower Drawings, ACC Associates, dated 2/18/15
9) Notice of Cancellation of Commencement, unsigned.
10) FAA, FCC registrations
10–15Q-004_Divine_032615.pdf (Attachment)
5a–Certificate.pdf (Attachment)
13–ZIS_07677125_20150508090439_Certificate.pdf (Attachment)
9–SCAN2891_000.pdf (Attachment)
5b–Certificate.pdf (Attachment)
12–15Q-004B_Divine_050515.pdf (Attachment)
6–20150128 Notice of Commencement.pdf (Attachment)
4–20140318_151733.pdf (Attachment)
3–20140210_172502.pdf (Attachment)
7–NOC_Cancel_Divine_Radio.pdf (Attachment)
5c–Certificate.pdf (Attachment)
Divine Word Radio 15-16 PKG Policies.pdf
Note: Inweekly initially requested the City's "Sunshine Center" for these records. In the past, the newspaper had been instructed to go through the City for public records related to contracts. The "Sunshine Center" refused to make the request of Divine Word on our behalf. The runaround delayed our getting the information, but fortunately Divine Word cooperated.