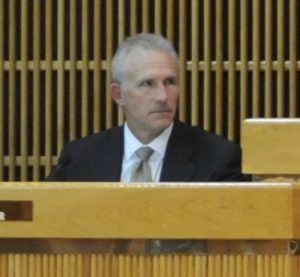 In November, City Administrator Eric Olson compiled a timeline on the ground lease and radio tower construction in the Long Hollow Conservation District – Olson Timeline.
Olson wrote after the entry on the issuance of 2014 permit: "No work had started after 6 months and Inspections Services notified Biggs Construction that permit was about to expire due to no work being performed."
George Biggs in his letter to the Pensacola City Council, dated Nov. 9, 2015, wrote, "In January 2015, the City of Pensacola Building Department contacted our office and stated the permit was about to lapse because of inactivity."
Olson didn't mention in his timeline when Inspections actually contacted Biggs, only that permit was renewed on Jan. 29, 2015. Biggs requested the renewed permit be canceled on Feb. 3.
The 2014 permit actually expired on Sept. 14, 2014, according to the permit records on the city's website. Olson didn't include this screenshot in the documents given to the council: DW2014permit.
When was the new tower erected and the new guy wire foundations poured? Olson doesn't tell the council in his timeline.
Are we to believe, as Olson appears to be telling the council, that no work was done on the site until after the permit was renewed on Jan. 29?
Was the new tower substantially built and all the guy wire foundations poured between Thursday, Jan. 29, 2015 and Monday, Feb. 2, 2015 when Biggs sent his letter to Gene Church that he was removing his company from the project? See BiggsRemoval.
Before Christmas, Inweekly asked to interview Olson about the radio tower. We were told by City Public Information Officer Vernon Stewart:
"The City Administrator respectfully declines your request for an interview about the Long Hollow radio tower. Our position on the tower remains unchanged. The City has a lawful lease with Divine Word Communications and intends to honor it."