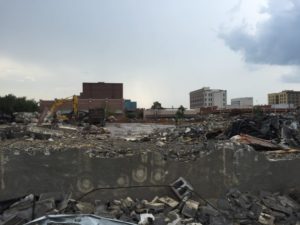 Downtown Pensacola is experiencing a rebirth right before our eyes. In the next 18 months or so, downtown Pensacola will expand beyond its main drag, South Palafox Street.
Studer Properties LLP has demolished the old Pensacola News Journal building–fondly known around the Inweekly offices as "The Bomb Shelter"– to make room for a $50-million, 260-unit apartment and retail spaces along Romana and Jefferson streets. See renderings.
Estimated completion date: Late 2016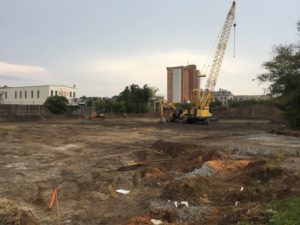 Between the PNJ site and the back of Seville Quarter, work has begun on the new downtown YMCA.
The $15 million, 52,000 square foot facility will have an aquatic center, gymnasium, wellness center, group exercise space, KidZone, demo kitchen, and multipurpose rooms that can be used for a wide variety of programs and events. Read more.
The Bear, Levin, Studer YMCA will open in 2016.