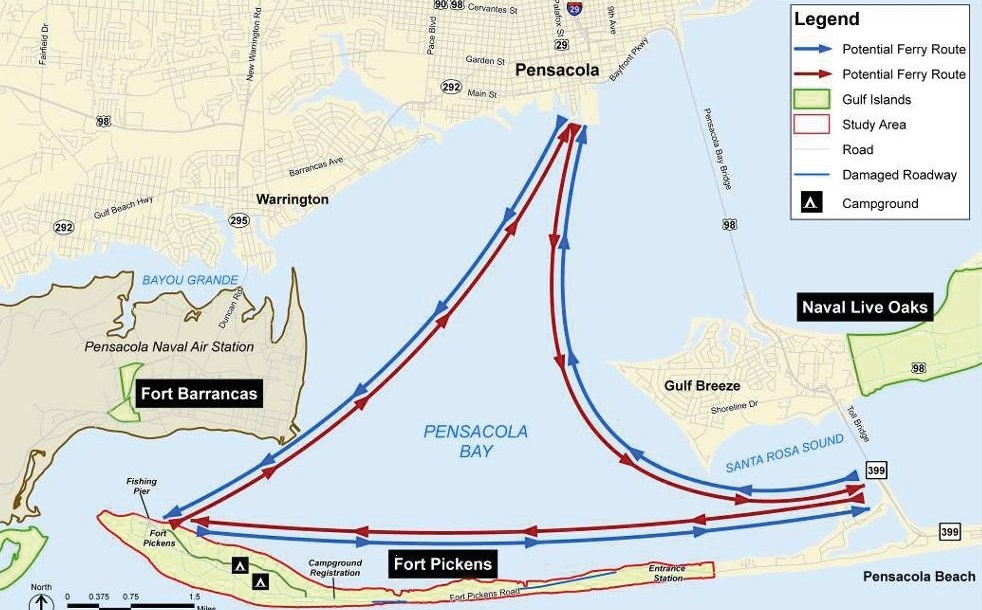 The National Park Service and HMS Ferries, Inc. have signed a 10-year concessions contract for the operation of Pensacola Bay Cruises. 
HMS Ferries is the company that runs the ferry service that connects Fort Morgan and Dauphin Island in Mobile Bay.
HMS will immediately begin preparing for the 2019 season.  Service startup date, schedule, prices, and other details will be announced as soon as they are available. 
Tickets for regular service will be all-day hop-on, hop-off, and discounts may be offered for children, military, seniors, groups, and frequent riders.  Park entrance fees are waived for visitors arriving at Fort Pickens via Pensacola Bay Cruises.
"We're excited to start working with HMS Ferries, Inc. and to see this wonderful opportunity return to Gulf Islands National Seashore this spring," said Superintendent Dan Brown. 
Pensacola Bay Cruises' 150 passenger boats, named Turtle Runner and Pelican Perch, were built with funds received via a post-Deepwater Horizon oil spill settlement reached with BP. 
HMS (Hornblower Maritime Services) has over 25 years of experience in the maritime industry, and currently operates boat cruises and ferries at locations across the country including the Mobile Bay and Gees Bend ferries in Alabama, and St. Johns River ferry in Jacksonville, Florida. They bring an experienced and capable team to the operation at Gulf Islands National Seashore and its community partners.